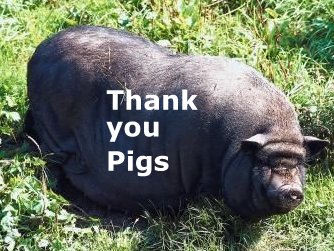 DESICCATED THYROID QUOTE OF THE DAY: "I had potbelly pigs as pets for 18 years (my kids were allergic to cats and dogs). I took darn good care of them! Now pigs are taking care of me! :c)" ~Thyroid Patient Tula
THE STOP THE THYROID MADNESS BOOK IN SPANISH IS COMING OUT LATER THIS MONTH!
Look for a future announcement! It will only be available via the publishing company at first, which is here: //www.laughinggrapepublishing.com
CAN ENDURANCE EXERCISE AFFECT YOUR THYROID?
There has been some hoopla around the net about the possibility of endurance training affecting thyroid function in a negative way, especially in women (but could happen to men). And when women stop their endurance or cardio training, they see their T3 levels come back up where they should be. One article cites 80 difference references about problems caused from excess training or exercise. But what I fail to see mentioned in many articles is the potential physiological reason why. First, more intensive exercise raises cortisol levels (in those with healthy adrenal function–not in those with sluggish adrenal function). Both higher levels of cortisol, as well as increased inflammation, inhibit the conversion of T4 to T3. This inhibition raises the levels of Reverse T3, which lowers the cellular receipt of T3. And here's something quite interesting also found in this article:
"….low intensity exercise (40%) does not result in significant increases in cortisol levels, but, once corrections for plasma volume reduction occurred and circadian factors were examined, low intensity exercise actually resulted in a reduction in circulating cortisol levels."
The above biological fact about exercise and cortisol is another reason why intense exercise becomes a no-no if saliva testing proves you already have an adrenal (sluggishness) or HPA feedback issue.
VITAMIN C AFTER A WORKOUT CAN HELP LOWER HIGH CORTISOL–IS THERE SIGNIFICANCE FOR THYROID PATIENTS??
I thought I knew a lot about Vitamin C until thyroid Patient Kristian told me about Vitamin C helping to lower high cortisol. Well Blimey and Blow me down!! This article reveals, via certain studies, that taking 1,000 mg of vitamin C before a workout lowered high cortisol even 2 and 24 hours after the workout, or taking 1500 mg Vitamin C for eight days put cortisol 57% lower….and more. So perhaps we have another treatment for thyroid patients who find themselves with high cortisol (as revealed by a saliva test, NOT a blood test) or a mix of highs and lows. This Psychology Today article says Vitamin C might be an essential part of stress reduction, which a mix of highs and lows in which saliva testing reveals.
IODINE DEFICIENCY MAY NOT BE FROM LACK OF IODINE IN OUR SOIL?
From 2004, the article titled "Nutrition, evolution and thyroid hormone levels — a link to iodine deficiency disorders?" proposes that iodine deficiency may be more about historical changes in what humans now eat rather than a decrease of iodine from the environment. He explains that T3 is actually dependent on the amount of carbs we eat. He states:
While our Paleolithic ancestors subsisted on a very low carbohydrate/high protein diet, the agricultural revolution about 10,000 years ago brought about a significant increase in dietary carbohydrate. These nutritional changes have increased T3 levels significantly. Higher T3 levels are associated with an enhanced T3 production and an increased iodine requirement. The higher iodine requirement exceeds the availability of iodine from environmental sources in many regions of the world, resulting in the development of IDD.
DON'T DISMISS THE INFLAMMATION PROBLEM WITH THYROID DISEASE…
Normally, inflammation is a naturally healthy and positive response of your immune system to counter the infectious problem of a virus, bacteria or fungal excess. It can also be activated by an irritant (picture a splinter in your finger) or damage to your cells from an injury.
But in thyroid patients, especially those who have remained undiagnosed or poorly treated on T4-only meds, the inflammation response can become chronic and problematic! You might even get the diagnosis of Fibromyalgia because of it! And while many thyroid patients may be clear they have inflammation, others may have it with no clue! See the newest page on Stop the Thyroid Madness concerning the problem of inflammation, how to detect it, and what you need to do about it.
Important notes: All the information on this website is copyrighted. STTM is an information-only site based on what many patients worldwide have reported in their treatment and wisdom over the years. This is not to be taken as personal medical advice, nor to replace a relationship with your doctor. By reading this information-only website, you take full responsibility for what you choose to do with this website's information or outcomes. See the Disclaimer and Terms of Use.