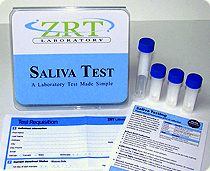 For years, thyroid patients have shied away from using saliva testing while on HC, concerned about the false highs and false lows of cortisol levels that occur with exogenous use of medications like hydrocortisone (HC) i.e. that which you give yourself externally vs the natural release. Or, there might be an issue with the HC still left in your mouth, and the saliva results would reflect this.
But thyroid patient and author Paul Robinson, as explained in his blog post, has recently been in touch with Dr. Henry Lindner who has found a way to use saliva with his patients on HC. Also, to avoid the residue of HC in one's saliva, he instructs his patients to swallow their HC quickly with water.
For example, Lindner can tell if one isn't on enough HC by looking at the saliva result done two hours after a patient took HC. i.e. the reading might still look "normal" when in fact, it should be much higher due to the high peak after taking HC exogenously. It would only be "normal" (or low normal) looking four hours after one takes HC, not two hours after. Conversely, if saliva is done right before the next dose of HC is due, which is often in four hours, it should be low normal, since exogenous use of HC should result in a fall after the peak. Thus, it can mean one's HC dose before that was too much.
You can read Dr. Lindner's own words on his website here. I can't guarantee this will work for you. In fact, we don't recommend doing it this way at all. And your doctor probably won't understand it yet. So in the meantime, patients have been assessing their HC use with Daily Average Temps (DATS) and it's still viable as well. It can be a way to avoid the cost of additional saliva testing. To understand how to do your DATS, see Discovery Step Two, number four, here. This is also explained in the revised STTM book in Chapter 5, which also has more details.
Want to order your own saliva test? Go here. Both My Med Lab and Healthcheck USA use ZRT, and Direct Labs uses a six times a day saliva testing if you're curious about your nighttime levels.
DID HIS WIFE COMMIT SUICIDE DUE TO THE FAILURE TO TREAT HER THYROID CORRECTLY?
In one of STTM's Facebook groups, I saw a posting about this article, and it broke my heart.
I cannot say one way or the other about this particular case, where his young wife had Hashimotos. But in the ten years I've been a Thyroid Patient Activist, I've seen SO many thyroid patients on T4-only, or those who haven't received a correct diagnosis due to the lousy TSH lab test, suffer from depression, whether from continued thyroid problems or the effects of adrenal fatigue and low cortisol–the latter which a large body of thyroid patients can fall into. The brain and the adrenals NEED T3, we have learned personally, over and over.
My own mother was a classic example, having endured Electric Shock Treatment in the 1960's for her poorly-treated, thyroid-induced depression, then needing to be on an anti-depressant her entire life from being on T4-only. That anti-depressant made her emotions flat.
You can see the article here.
DO YOU HAVE TO ENDLESSLY TAKE CERTAIN VITAMINS/MINERALS TO KEEP THEM UP??
I do. For me, it's magnesium. It's like my body has a "magnesium hole" and I can never seem to keep my levels optimal without supplementing daily. And I am very optimally treated for my hypothyroidism, and use Apple Cider Vinegar daily in a large glas of flavored water for a more acidic stomach environment. For others, it's a "B12 hole", and they have to inject or take supplements daily. Others might have an "iron hole" and need the maintain that.
What about you? What supplements do you have to take daily to keep your levels optimal??
Important notes: All the information on this website is copyrighted. STTM is an information-only site based on what many patients worldwide have reported in their treatment and wisdom over the years. This is not to be taken as personal medical advice, nor to replace a relationship with your doctor. By reading this information-only website, you take full responsibility for what you choose to do with this website's information or outcomes. See the Disclaimer and Terms of Use.