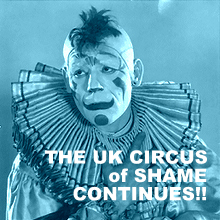 What in the world is up with the medical system in the United Kingdom??
UK thyroid patients report it's almost impossible to be on natural desiccated thyroid–a treatment which simply gives a thyroid patient back the T4, T3, T2, T1 and calcitonin that a healthy thyroid would be making.
And now, the General Medical Council has decided to once again challenge a doctor who DARED to treat symptoms with a lab result in range, even though the patient clearly has hypothyroid symptoms. Thyroid patients are INFORMED patients, and we know the difference between what a man-made fallible lab range shows, and how we feel, especially the lousy use of the TSH lab test.
I first wrote about the Circus of Shame concerning the challenge Dr. Skinner's fitness to practice here, which was 2006. Finally, five years later in 2011, you can read about Skinner being exonerated of all charges here! It was exciting. Sheila of TPA-UK outlines concerns with this entire fiasco here.
But it appears the General Medical Council wants to keep playing this broken record. They now have 5 more charges against him–i.e. the same old stuff about treating within the reference range. MANY patients have been treated with their lab test in range and report their lives changed!!
Says Sheila Turner of TPA-UK stated today, Feb. 18th, "Dr Skinner has 3 working days to get his defence together, he was away last week, and came back yesterday to find a big bundle in his post from the General Medical Council. The following is what I posted to all of my members yesterday. We have heard nothing more from the GMC or from Gordon's legal team as we are now into the weekend, so will have to wait until Monday morning. As much as I know I have written below. See the last day of the GMC hearing and the Panel's decision at that time. It just beggars belief. here http://www.tpa-uk.org.uk/skinner_hearing_transcripts2.php ."
YOU CAN HELP!! Use the following to email short messages of support about being treated successfully with a lab result within the so-called normal range: IOPTeam@gmc-uk.org with Dr. Skinner's name and reference, C1-462487326 by this Tues 21st. The hearing (with hardly any notice) is on Wednesday 22nd Feb.
Important notes: All the information on this website is copyrighted. STTM is an information-only site based on what many patients worldwide have reported in their treatment and wisdom over the years. This is not to be taken as personal medical advice, nor to replace a relationship with your doctor. By reading this information-only website, you take full responsibility for what you choose to do with this website's information or outcomes. See the Disclaimer and Terms of Use.