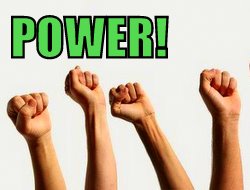 IMPRESSIVE GOOD THYROID NEWS!
After a grueling week by the United Kingdom's General Medical Council (GMC) , it was decided that the UK's most renowned thyroid practitioner, Dr. Gordon P. Skinner, should have all his restrictions lifted and his Fitness to Practice restored!
On November 11th, 2007, the GMC had decided that the beloved Dr Gordon Skinner was not fit to practice, simply because in 2005, he dared to listen to and dose by a patient's clinically-presented thyroid symptoms rather than her TSH labwork–the latter which fell in the erroneous normal range. Even more dastardly, felt the GMC, Skinner was going to treat the patient without a referral letter from her GP, and may have failed to contact the GP. Heaven Forbid!!
Says a recent statement from TPA-UK:
The GMC have agreed that Dr Skinner was not acting dangerously in initiating treatment with thyroid hormone replacement for those patients who had normal thyroid function tests but who suffered several symptoms and signs of hypothyroidism. They also agreed that for those patients who did not do well on levothyroxine-only therapy, the use of natural desiccated thyroid extract (i.e. Armour Thyroid) was a safe and effective thyroid hormone replacement that doctors could prescribe, even though it remains unlicensed. This is a precedent – and one that the British Thyroid Association are most definitely very unlikely to be happy with.
There's something huge to learn from this! It's called PATIENT POWER, my thyroid friends, and what we must always practice in our fight to get far better treatment. Namely, what impressed the staff of the GMC was the sheer volume of the general public who attended the hearings in support of Dr. Skinner. Additionally, there was a nicely bound volume of over 2000 patient citations in support of him.
********************************
SURVIVING STRESSFUL EVENTS EVEN WITH ADRENAL FATIGUE
Having adrenal fatigue with its low cortisol can be a challenge, even while you are on Hydrocortisone for your treatment (HC). So thyroid and adrenal fatigue patient Robin had to learn the hard way how to do something very stressful and still survive, adrenally. After moving to a new house, she created these excellent tips for dealing with any stressful event and preventing an adrenal meltdown:
REST REST REST as much as you possibly can! Just sit and stop moving, give yourself permission to stop "doing" and just BE! Let others do the work.
Don't be afraid to stress dose with your HC! Remember that a healthy person's adrenals can provide over 100mg per day when in very stressful circumstances! Of course this is not healthy long-term, but we do what we have to do to survive!
Remember that if you stress dose, you'll need to start a tapering down by 2.5 mg, holding for several days, then taking off another 2.5, etc until you work back down to your "regular" daily dose–the one that gave you stable Daily Average Temps.
SALT! Drink lots of salt water (or juice–I prefer my salt in watered-down juice or other flavored drinks), salt your food heavily, and even eat lots of salty olives, if you like them! The adrenals thrive in salt, and this can also be important if your aldosterone levels are also sluggish.
Eat lots of protein and fat and try to keep the carbs as low as you can!
Give yourself permission to be a hermit for a while. People can wait for you to return their calls. Just enjoy some quiet and solitude for a while.
********************************
PAYING FORWARD WHAT STTM HAS GIVEN YOU!
Janie began a contract with a top-notch publicist to help get the word out to millions about the problems with T4-only, or for those remaining undiagnosed or undertreated due to the TSH lab test (similar to what Dr. Skinner above tried to avoid for one of his patients). She already has interviews scheduled and more gigs are coming.
But this contract won't last long–it's just too expensive for Janie alone. So your help is needed to reach more people, and soon.
Go here and read all about it.
***************************
READING THIS VIA THE EMAIL NOTIFICATION?? If you want to comment on anything on a blog post, click on the title of this post, and you'll be taken right to the actual post. Then scroll down for the Comment square.
Important notes: All the information on this website is copyrighted. STTM is an information-only site based on what many patients worldwide have reported in their treatment and wisdom over the years. This is not to be taken as personal medical advice, nor to replace a relationship with your doctor. By reading this information-only website, you take full responsibility for what you choose to do with this website's information or outcomes. See the Disclaimer and Terms of Use.