(Reading this via email notification? Remember to leave a comment RIGHT on the blog post by clicking on the title of this blog post in your email.)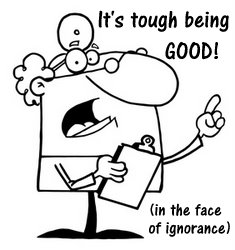 As thyroid patients, we are continually seeking doctors who understand successful patient experience. It's not always easy. So when we do find a good doctor, we're ecstatic. But little do we know the challenges a good doctor faces! The following was sent to me by a progressive, open-minded MD, of whose name I have removed to protect him from his own medical board. Be appalled and amazed. I was.
***************************
Janie, it is not infrequent that we are sent messages like this from Pharmacy Benefits Managers. Here is a typical letter with my reply.
Considerations for Your Review

1. Drug Safety Consideration: ARMOUR THYROID Use in Seniors Our claims record suggests that your older patient is receiving ARMOUR THYROID. Thyroid hormones should be dosed cautiously in seniors due to a potential risk of cardiac effects. Desiccated thyroid products contain variable amounts of T3. T4 and other iodothyronine compounds. Because older patients have a high prevalence of occult
cardiac disease, the Beers criteria generally recommend transition to a safer alternative (e.g.. agents like levothyroxine with more standardized hormone content). Please consider the potential risks versus benefits of therapy for your patient.

Reference(s):
1. Thyroid Agents. In: McEvoy GK, ed. AHFS: Drug Information. Bethesda, MD: American Society of Health-System Pharmacists; 2008:Sec 68:36.04.
2. Pick DM et al. Updating the Beers Criteria for Potentially Inappropriate Medication Use in Older Adults. Archives of Internal Medicine. 2003; 163:2716-2724.
3. Semla TP et al. Geriatric Dosage Handbook. 13th ed. Hudson, OH: Lexi-Comp; 2007.
(And this brilliant doctor's reply:)
Dear xxxxxxx

Re: Armour Thyroid Products

I invite your attention to the P.I. (product information) in the PDR on levothyroxine (Synthroid). I quote: PRECAUTIONS "Patients with underlying cardiovascular disease–Exercise caution when administering levothyroxine to patients with cardiovascular disorders and to the elderly in whom there is an increased risk of occult cardiac disease."

DOSAGE AND ADMINISTRATION

"Caution should be exercised when administering SYNTHROID to patients with underlying cardiovascular disease, to the elderly, and to those with concomitant adrenal insufficiency (see PRECAUTIONS)."

I read your statement that says, "Desiccated thyroid products contain variable amounts of T3 and T4 and other idothyronine compounds." Forest Pharmaceuticals has stated their product is standardized as published in the PDR: " One (1) grain or 60 mg of Armour contains by assay 38 mcg levothyroxine (T4) and 9 mcg liothyronine (T3)." I do not ever remember Armour Thyroid ever being recalled for stability or lack of standardization.

However, Synthroid and the other forms of levothyroxine have had significant problems.

SYNTHROID AND OTHER T4 PRODUCTS were subject to FDA NOTICE in the FEDERAL REGISTER: AUGUST 14, 1997 (VOL 62, NUMBER 157). These were the drugs that were not well standardized and were not stable. I quote from the report: "Some of the problems reported were the result of switching brands. However, other adverse events occurred when patients received a refill of a product on which they had been previously stable, indicating a lack of consistency in stability, potency, and bioavailability between different lots of tablets from the same manufacturer."

Thank you for caring for the health of the patients receiving medications from your company. I request that you check your facts fully before issuing such flyers.

Respectfully,

xxxxxxxxx, M.D.

Cc: FOREST PHARMACEUTICALS
BRAVO TO THIS DOCTOR in the face of complete ignorance!!
*********************************
STTM HAS HIRED A PUBLICIST and YOUR HELP IS NEEDED!
Do you value what Stop the Thyroid Madness has given you?? Something has to be done to reach millions of individuals still lingering without a diagnosis due to the TSH, or suffering due to being on T4-only meds! You and I run into them DAILY and don't even know it! Or we have many family members in the TSH/T4 category. And the media does NOTHING about this scandal. STTM has hired a publicist, and you can read about it here. But I can't do this alone. If you value Stop the Thyroid Madness, please considering helping.
********************************
TPA (Thyroid Patient Advocacy) STILL NEEDS YOU TO REGISTER
Have you registered for the Counterexamples to T4-only? So far, 1437 have, and Sheila Turner is determined to get that number to over 2000 at least. There were 900 participants on those flawed studies showing that T4/T3 combination worked no better than T4-only, and we have got to prove our point that this is wrong. All you have to do is answer 3 very short questions. http://www.tpa-uk.org.uk/register_of_counterexamples.php
********************************
Important notes: All the information on this website is copyrighted. STTM is an information-only site based on what many patients worldwide have reported in their treatment and wisdom over the years. This is not to be taken as personal medical advice, nor to replace a relationship with your doctor. By reading this information-only website, you take full responsibility for what you choose to do with this website's information or outcomes. See the Disclaimer and Terms of Use.