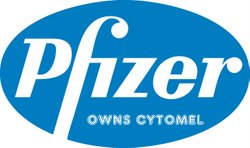 ARE YOU ON CYTOMEL? If you haven't gotten a refill of your Cytomel lately (a synthetic T3-only medication), it's important that you know that the former makers, King Pharmaceuticals, was bought out by Pfizer Canada, Inc last October 2010. Why is this important? Because as thyroid patient Mare found out the hard way recently, your local pharmacy may think it's not made anymore, and scare the pants off of you by saying so.
In reality, your local pharmacy needs to contact Pfizer Canada about getting re-stocked. Says Mare, "The pharmacy's inaccurate data caused me a great deal of angst this weekend as I was now totally out of the only thing (Cytomel) that's even remotely made a bit of difference and now they were telling me I couldn't get it anymore (do we patients always have to do everything ourselves??!!!)"
***Have you had any problems filling your T3? Comment on this blog post and tell us your experience.
WHY WOULD ANYONE BE ON T3-ONLY?? Did you know that if you have too high or too low cortisol levels, and/or low ferritin/low iron, there's a good chance you may need to be on T3-only for awhile? Yes, when you have ongoing chronic issues as a thyroid patient, your body will respond by converting the T4 you have to excess Reverse T3. And excess RT3 will hog-and-clog the very cell receptors that would be receiving T3. Thus, you become hypo all over again. You can read more about it here. But if you want even more good detail about T3, how this active thyroid hormone helps you, the causes of RT3, and how to dose T3-only meds, get the Revised STTM book. It's VERY worth it.
***What brands of T3 you have tried, what works for you, and what hasn't worked as well?? Comment on this blog post.
THE CONTINUING SAGA OF DR. SKINNER IN THE UK: If you aren't aware of the incredibly shocking story of beloved Dr. Gordon Skinner in the UK—a man who dared to prescribe thyroid treatment in lieu of a "normal" TSH lab result (which is a lab test that informed thyroid patient worldwide know is completely bogus)—you can read my 2006 blog post about him here, followed by the 2007 post here. Also, Sheila of TPA-UK gives detailed information here.
And everyone should know that his General Medical Council (GMC) hearing is coming up: July 28th and 29th, plus August 1st, 2nd and 3rd. This is to assess whether further action is needed after his 3 years of conditional practice are now up (as of late last year). Says a strong supporter of Dr. Skinner (and there are MANY): "Please let people know that their support is extremely valuable. Dr Skinner has asked for the hearing to be public and the GMC should accommodate everyone."
***Are you in the UK? Keep us informed by commenting below.
HIP HOP MISSY ELLIOTT HAD RAI FOR HER GRAVES DISEASE: How many informed thyroid patients groan when they hear news like this concerning the use of RAI (radioactive iodine)! Thyroid patients worldwide bemoan the use of Radioactive Iodine treatment because of its potential for immense side effects. And all over the net, we read that's just what was done to Missy Elliott in her battle with Graves disease aka hyperthyroidism. See the People Magazine article here.
Says the Atomic Women website:

Rheumatoid arthritis is also an autoimmune disease. But, fortunately, limbs are not being amputated nor radiated.

Diabetes mellitus is also an autoimmune disease. And, fortunately, the pancreas is not being removed or radiated.

What is the point of irradiating and killing thyroid glands, which are fundamental for life?
We, as thyroid patients worldwide, wish the best for Missy. And we hope that if she is like many who eventually become hypothyroid, she will discover and learn from Stop the Thyroid Madness!
***What was your experience with RAI? Post side effects? Let us know by commenting on this blog post!
Important notes: All the information on this website is copyrighted. STTM is an information-only site based on what many patients worldwide have reported in their treatment and wisdom over the years. This is not to be taken as personal medical advice, nor to replace a relationship with your doctor. By reading this information-only website, you take full responsibility for what you choose to do with this website's information or outcomes. See the Disclaimer and Terms of Use.