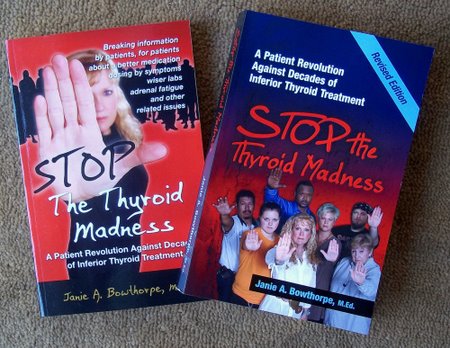 YEEHAW!!
Three years ago this month, the book Stop the Thyroid Madness: A Patient Revolution Against Decades of Inferior Treatment came out with quiet fanfare–a complete patient-to-patient book chock full of information based on the successful experience of thyroid patients worldwide. As the messenger of that information, I had a strong purpose: to create INFORMED patients who can then demand change in their doctors offices. Pro-active patients! Educated patients!
But the reaction to it wasn't quiet!
Thyroid patients have reported it was changing their lives. To date, the STTM book has been sent, and in multiple copies, to Antiqua/ Barbuda, Austria, Australia, Belgium, Canada, Cyprus, Denmark, Finland, France, Germany, Iceland, Ireland, Israel, Malaysia, New Zealand, Netherlands, Norway, Singapore, South Africa, Spain, Sweden, Switzerland, Thailand, and the UK. That doesn't include the high volume amount of copies sent to US patients, doctors, and individuals in all 50 states and Puerto Rico.
Amazingly, yet not surprisingly, patients were discovering new information even a few months after the First Edition was published three years ago. As a result, Laughing Grape Publishing LLC had to add, and continually update, a bookmark of updated information into all its books ordered directly from the publishing company.
Today, in the REVISED SECOND EDITION, all that extra patient information has been added, plus a LOT more.
36 more pages, by and for patients, plus changes & additions in every single chapter
Much more detail on adrenal and HPA dysfunction and how to treat it
Recognizing and dealing with Reverse T3
Identifying and treating gluten issues as related to Hashimotos disease
Iodine-use information in relation to hypothyroid, breast disease, Hashimotos, adrenal dysfunction, etc.
More details on labwork preparation, plus what to look for in your results
Why you need more than ferritin testing, and details on iron testing
Updated information on brands of desiccated thyroid throughout the world, T3-only products, hydrocortisone, and more
A completely NEW CHAPTER on supplements & foods which thyroid patients appreciate and use!

And, the price has been kept exactly the same. Our loss; your gain, in the name of an important movement of needed education and change!
This was NOT an easy book to revise! I had to go through it with a fine-toothed comb, removing some information, correcting other information, adding a lot more…besides working on making it more readable. I am not a writer by profession. Sometimes I felt like a "cuckoo's nest mental case" trying to balance the work on the Revised edition with my other activist responsibilities and a busy private life. Is it perfect? Nope. But as I stated in the First, some information is right on target, some is at least close to the bulls-eye, and other info will fall into place as we continue to learn. That's why you need to see it as "guide" of patient experience, and to use it to become PROACTIVE in your relationship with your doctor and the entire medical profession.
Today, you can order either copy. As of today, the First Edition has been lowered to 14.95 until supplies run out, which will be soon. The Revised Second Edition is taking pre-orders, and it looks like books will start being sent out in about 7-10 days.
You can go here to see a stand-alone website about the book, as well as here to be among the first to pre-order your copy.
THE STTM BOOK IN OTHER LANGUAGES
Yes, you will eventually be seeing the Revised Second Edition in various languages. That's in the works right now, and no, I don't yet know the dates. I'll announce that here, so be sure and be signed up for this BLOG NOTIFICATION to the left under the links.
KINDLE and E-BOOKS
With no projected dates other than much later this year, you will first see an E-book. Later, we'll be looking at Kindle. Again, announcements will be made, and you'll have to be patient. In the meantime, ordering the book is your best choice right now. Besides, having this book in your lap in the doctor's office is powerful to many of them, since doctors can have silly thoughts about "internet" information.
And more is coming which will be announced as they occur. 🙂
Important notes: All the information on this website is copyrighted. STTM is an information-only site based on what many patients worldwide have reported in their treatment and wisdom over the years. This is not to be taken as personal medical advice, nor to replace a relationship with your doctor. By reading this information-only website, you take full responsibility for what you choose to do with this website's information or outcomes. See the Disclaimer and Terms of Use.