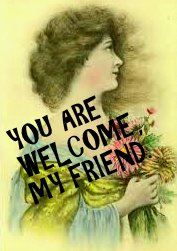 In the daily emails I get from folks, some make my heart ache. And a recent email just underscored to me how we still have a long way to go in changing the inane stupidity of the medical establishment.
Her email today was titled OMG, THANK YOU!!!!!!
She explains that for twenty years, she has been sick, fired doctors, had them fire her for being "uncooperative in my treatment", and more. And today, after finding STTM, she wants to cry, laugh and "talk out loud to all those charlatans who call themselves doctors".
And I completely identified with her. I remember those 20 years myself where I went from doctor to doctor to doctor, enduring dismissive attitudes, vain condescending deaf ears, clinical blindness, ignorance, lab worship, and a slew of tests that were either useless or extremely painful–all in the attempt to find out WHAT WAS WRONG WITH ME.
Today, after finding STTM, she exclaims: "the relief of finally being vindicated after all those years!"
She continued: "Most of the time they didn't even have enough integrity to admit they didn't know…they would just look at the paperwork and say,"well, the lab work looks fine." Then would come the implication that it was all in my head."
She spent hours and hours of online research (boy does that sound familiar) and her breakthrough after too many years of poor doctors came with a single old school family doctor who ordered the cortisol test. And finding the patient-to-patient STTM was the final victory.
I wish I had had something like STTM, once upon a time. But so be it. The kind of long term suffering I endured, as well as many others, is the reason STTM was compiled and created, and patiently sits there, waiting for each and all who are STILL in the same boat to find it.
She ended her email with "Thank you! Thank you! Thank you!" And all of us who have been there, and have finally found our sweet spot thanks to PATIENT WISDOM as outlined on STTM, say "You're welcome".
Important notes: All the information on this website is copyrighted. STTM is an information-only site based on what many patients worldwide have reported in their treatment and wisdom over the years. This is not to be taken as personal medical advice, nor to replace a relationship with your doctor. By reading this information-only website, you take full responsibility for what you choose to do with this website's information or outcomes. See the Disclaimer and Terms of Use.