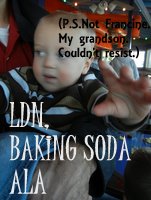 I meet many amazing individuals via the internet who have struggled with thyroid problems and clueless doctors. And my latest internet thyroid friend is Francie.
Francie is the owner of an Multiple Schlerosis group that uses LDN (Low Dose Naltrexone) in their treatment. And besides having dealt with MS, she is a thyroid patient who had half her thyroid removed due to a cancer threat. Afterwards, her doctors never suggested that her fatigue, feeling cold, and weight gain was anything except in her head while pushing SSRI anti-depressants on her. She asks "Why can we not keep it simple? Why do they think that we need powerful prescription drugs when a simple hormone can do wonders? "
But Francie's story goes beyond her thyroid issue. She played a huge role in CURING HER UTERINE CANCER through the use of LDN, Baking Soda, and ALA (Alpha Lipoic Acid). I was SO amazed that she gave me permission to post it here. Read this!
I have found three cheap, easy and safe suggestions to combat cancer: LDN, Baking Soda and ALA.
LDN is Low Dose Naltrexone. I originally started to use it for my Multiple Sclerosis and it honestly gave me my life back. I kept reading about others who were using it for cancers (and other auto-immune diseases, too, like Hashimotos), but that did not affect me, so paid little attention other than to note that the treatment adds Alpha Lipoic Acid, which is a very powerful antioxidant, among other things.
Then in September, I was diagnosed with uterine cancer. Upon examination, it had apparently spread to the cervix, since that area was white and not good looking. Since I could not get an appointment for a couple of weeks (we have no insurance and the only option in this country was the University of Louisville teaching hospital) I decided to do all that I could to combat it during the wait.
I added the ALA (two 300mg capsules daily on an empty stomach) and along with that, infusions of baking soda in the uterus and then a soaked tampax next to the cervix. Within two weeks, the cervical lesions were gone.
Two weeks later, when I went to Mexico for surgery (I really did not need that uterus at age 62), the pathology showed that there was no evidence of cancer on the cervix or surrounding tissue. I attribute that to the constant sodium bicarbonate environment.
There was also no evidence of cancer in the adjacent lymph nodes or pelvic fluid. I attribute that to the LDN and ALA. It was obvious that the cancer predated my use of the LDN, which enormously improves the body's own immune system, and there was no indication that it had metastasized outside the uterus. Inside the uterus is very hard for anything to penetrate as it is designed to be walled off from the body's immune system, since it is made to hold what is recognized as a parasite to the host (baby in a mother.) So it is not surprising that the tumor was not killed in the uterus.
I also refused chemo and radiation. With the clean pathology, all of the Mexican doctors recommended that I take care of myself stay as healthy as possible. All of the US doctors recommended chemo at $10,000-15,000 per treatment. If they don't recommend it and something happens, they can be sued. If they do recommend it and they kill you with it, they cannot be sued. That does not say much about my part in the equation.
There are excellent videos that explain these treatments. Doing a Google for "LDN ALA and cancer" will get lots of info. There is also a yahoo group called lowdosenaltrexone with more than 9000 members, including very knowledgeable doctors to help.
To do some research, one cannot do better than get Dr. Berkson's book: "The Alpha Lipoic Acid Breakthrough". He has cured even pancreatic cancers and has the scientific research to prove it. You can see his speech on YouTube here: http://www.youtube.com/watch?v=WqRwXEnPYKk
Like me, you probably want to really beat the bushes and use anything and everything that seems logical, makes sense and CAN DO NO HARM, especially when they are cheap as well. That is what baking soda, LDN and ALA all promise.
Not one of my US doctors suggested any of these, and yet there are people who know that they have cured or stopped the progression of horrible diseases with just these cheap and available products. Our American medical system is drug and money driven. We are sadly, not much healthier for it, in my opinion.
My best wishes to all,
Francie
http://LDN-for-MS.com
AND A FOLLOW-UP SHE MADE TO SOMEONE WHOSE GIRLFRIEND NOW HAS CERVICAL CANCER:
Changing the pH factor makes a huge difference in most living things on earth. We all live in a very narrow pH range.
For this reason, I am always shocked that people are willing to take expensive and life threatening drugs for toe nail fungus, like the one sold on TV for instance. Soaking the feet a couple of times per week in a vinegar solution (1/3 vinegar to 2/3 water) will kill it right away. It can take a year of soaking while the big toe nail grows back, but at least you are not taking powerful drugs in the whole body to affect a small area. Same thing with fingernail fungus. Just keep a pill bottle of diluted vinegar near where you work or sleep and dip the finger in each day or so.
So, it was no surprise that changing the pH factor might inhibit cancer. My main hesitation was the leap to believing that cancer is actually a fungus. I am not so sure that it is. HOWEVER, I can imagine that fungus sets in with an unhealthy environment and I can also imagine that fast growing cells (cancer) would be more affected by a pH change than normal cells. So, I don't have to even believe that cancer is fungus to give a change of pH a try. It is cheap and easy and the main question to me is, "why wouldn't you?" We are talking your life. It is worth saving.
I think that cervical cancer and skin cancer would be the BEST ones to try and probably the most successful for exactly the same reason listed above. You are directly treating the affected area rather than having to change the whole body environment, like with brain or lung cancer.
The cervix is the opening to the uterus. So, if they said cervical cancer, then it is not the same as uterine cancer (I am hoping it is not both, as it was with me.)
If I were your girlfriend. I would douche with a sodium bicarbonate solution. In Mexico, it is sold in drug stores as bicarsol, which is a 5% sterile solution. This is what I had my doctors rinse the pelvic region out with before closing my incision from my hysterectomy.
I don't think that you need sterile for douching. I used a much more concentrated solution, but after talking with a doctor that I trust, he feels that a VERY concentrated solution could burn the healthy tissue in such a delicate region, as opposed to on the skin, where I read that patients use a baking soda paste. As a suggestion, I would dissolve a tablespoon full in a cup of water, which should give a nicely basic solution. After douching, do not rinse out the solution, but leave it with that high pH all day.
No matter what else the doctors recommend, you can still do this. My cancer was also in the uterus, so we did infusions of baking soda solution directly inside the uterus. We have medical backgrounds and were not intimidated by this, although I apologize to any who are offended by talking about private areas 🙂 . I don't know if it helped there, as the tumor was already quite large and I only had a couple of weeks between diagnosis and the surgery to remove it.
I am personally opposed to chemo and radiation and was determined to not go that route. With my use of LDN and ALA (low dose naltrexone and alpha lipoic acid), I feel comfortable that I am doing more and living a healthier life than if I poisoned myself as recommended by western doctors. I believe that in future decades, we will look back on that practice with bafflement and horror, like we look back on bleeding people to cure the plague in the dark ages.
Don't let your girlfriend be traumatized or intimidated by her doctors. I found the US doctors cavalier, haughty and offended that I had my own ideas and did not instantly treat them like gods. They were horrified that I would go to Mexico for surgery at 1/10th the price that they wanted to charge for the same thing. Not one of them offered something that I could do while waiting for them to wave their magic wands, as if they have any cure other than surgery, chemo and radiation. They did not mention healthy eating, pH factor or immune system improvement or anti-oxident supplementation. They were close minded and dogmatic.
Francie http://LDN-for-MS.com
From Janie: please note that I am not posting this for you to take things into your hands, or to direct you against radiation or chemo. Each person, along with working with a trusted and good doctor, has to make their own decision. But I found it VERY impressive and worth educating you about.
You can read more about Low Dose Naltrexone here.
Important notes: All the information on this website is copyrighted. STTM is an information-only site based on what many patients worldwide have reported in their treatment and wisdom over the years. This is not to be taken as personal medical advice, nor to replace a relationship with your doctor. By reading this information-only website, you take full responsibility for what you choose to do with this website's information or outcomes. See the Disclaimer and Terms of Use.