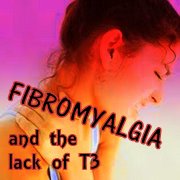 Oh the heels of my last blog post (see right below this if you are reading right on the site) comes something VERY interesting, and which thyroid-patients-in-the-know have already known about for a good ten years!
Namely, Dr. Ian Carroll, MD, MS, and Dr. Jarred Younger, PhD of the Stanford Systems Neuroscience and Pain Lab are currently enrolling patients for a clinical trial investigating T3 for the treatment of fibromyalgia. (Fibromyalgia is a chronic syndrome which causes widespread musculoskeletal pain and debilitating fatigue, also aching, twitching, burn sensation, joint issues).
Of course, patients who switched to desiccated thyroid the past ten years (or have used synthetic T3 in their treatment) already KNOW the truth from experience (which is usually always pooh-poohed by clinical-trial-worshipping, clinical-presentation-ignoring, medical professionals.).
Namely, fibromyalgia is usually the result of undiagnosed hypothyroidism (due to the inane TSH lab test) and undertreated hypothyroidism (due to the worst medication ever thrust on patients, aka T4-only, or Synthroid, Levoxyl, levothyroxine, Eltroxin, Oroxine, etc.) i.e. you need direct T3, the most powerful thyroid hormone, to adequately treated hypothyroidism.
i.e. we're all kinda going duhhhhhhhh here.
But, if a clinical trial is needed to prove what we already know (and so has Dr. John C. Lowe known it for many years), it'll be just one more underscore of the truth. Go to the following to read more and/or enroll: http://snapl.stanford.edu/t3/
P.S. the Bobbsey Twins of the failure of the TSH labs test and treating with T4-only: Fibromyalgia and Chronic Fatigue Syndrome.
**************************************************
Does your inner ear itch?? Got an email from a gal who was on Synthroid for 7 years, and for the last 5, had torturous deep inner ear itching. And guess what?? It went away just two days after switching to desiccated thyroid. Yup, another long and pathetic symptom of a poor treatment. (If you still have it on desiccated thyroid, see what mistakes in your treatment you need to identify and change, which is also Chapter 11 in the STTM book with a little more details added.)
*************************************************
Yippee!! Direct Labs is the third lab facility to partner with STTM in offering the kind of labs that patients who frequent STTM know are important in their quest to feel better and educate their doctors. Unfortunately, they don't offer saliva like the other two, which are Healthcheck USA and MyMedLab, but they have all the other labs you may be interested in. You can view them by going to STTM's Recommended Labwork page.
Important notes: All the information on this website is copyrighted. STTM is an information-only site based on what many patients worldwide have reported in their treatment and wisdom over the years. This is not to be taken as personal medical advice, nor to replace a relationship with your doctor. By reading this information-only website, you take full responsibility for what you choose to do with this website's information or outcomes. See the Disclaimer and Terms of Use.