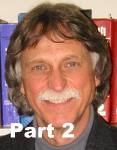 Please note: Dr. Lowe is NOT an MD or DO who see's patients and can prescribe. He's a thyroid and fibro "researcher" with good knowledge about T3, fibro, metabolism, supplements etc. Many questions have been coming in which are already answered on STTM, or are more targeted to a practicing physician, not a researcher. FYI.
🙂
1-14-08: COMMENTS with your QUESTIONS ARE NOW CLOSED TO POSTING. There are more than he can answer right now.
See you tonite!
On the heels of an informative and wonderful THYROID PATIENT COMMUNITY CALL on Talkshoe last week with Dr. John C. Lowe (see posts below), we're going to do it again this coming Thursday, January 14th. Join us for Part 2!
Dr. Lowe is a fibromyalgia, thyroid, and metabolism researcher who has always been such a champion for better diagnosis and treatment in thyroid patients. He is Editor-in-Chief of the open access journal www.thyroidscience.com as well as his own www.drlowe.com
And this time, Dr. Lowe is going to spend more time answering your specific questions. Check out his websites above to get an idea what his expertise is, which includes the use of T3, Hashimotos autoimmune thyroid disease, iodine, fibromyalgia, the tyranny of the TSH lab test, good supplements, the FDA, and more.
So here's your chance: think of one or two questions you'd like to hear him answer. Please, if you have more more than two, narrow them down to the two most important, and keep them brief. No exceptions. Two max only, and brief. Then use the Comments below to post them. Be sure and check out if your questions have already been asked in other comments.
I'll be collecting the questions ahead of time and will let him preview them. He wants to give you his best.
TIPS ABOUT TALKSHOE: Some reported being booted off and having to quickly rejoin. One step that may help is to download the Talk Shoe Live Pro ahead of time (takes 25 minutes for some) and use that software during the call, since it gives you far more stability. Also, make SURE you have everything else closed and/or not running on your computer at the same time you are in the Talkshoe call. I will also be chatting with Talkshoe support and will get more ideas.
Also, don't wait until the call occurs to mention your question. We found it difficult to try collecting them on the Chat. Ask now!!
Yes, you can also call in live during the Call, but it's good to first let me know your question here.
And finally, at a certain point of those who join (after 300 on chat), Talkshoe participants are automatically unable to post on the chat. You can listen, but no chatting. So if you want to chat, join as soon as the Call opens up, which is 15 minutes before the actual audio begins. Times for the audio are 9 pm Eastern, 8 pm Central, 7 Mountain, and 6 pm Pacific.
The Stop the Thyroid Madness Talkshoe page: http://www.talkshoe.com/talkshoe/web/talkCast.jsp?masterId=62603&cmd=tc
********************
See the blog post below those about Lowe for a very insightful Guest Blog Post by Amy about her role as an Undercover Thyroid Advocate. Below that, you can read how I was wrong about what it was like to be thyroidless, and several great comments.
Important notes: All the information on this website is copyrighted. STTM is an information-only site based on what many patients worldwide have reported in their treatment and wisdom over the years. This is not to be taken as personal medical advice, nor to replace a relationship with your doctor. By reading this information-only website, you take full responsibility for what you choose to do with this website's information or outcomes. See the Disclaimer and Terms of Use.