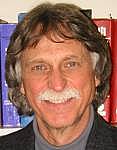 This coming Thursday, January 7th, Dr. John C. Lowe DC, PLLC will be joining me for the Talkshoe THYROID PATIENT COMMUNITY CALL and it's one you don't want to miss.
Dr. Lowe has been highly respected by thyroid patients for years for the excellent information he has disseminated about better thyroid treatment on his website drlowe.com. In fact, he's one of a handful of doctors that I mention with gratitude in the Acknowledgements of the Stop the Thyroid Madness book. His website and wise understanding played an empowering and self-educating role in the early movement by patients for better thyroid treatment with desiccated thyroid and better labs. You can read his own written biography here.
Mark your calender and set your cell phone alarm: the Community Call starts at 9 pm Eastern, 8 pm Central, 7 pm Mountain and 6 pm Pacific. You can log on anytime within 15 minutes before the call starts and participate in the Chat box. That same box will be right there during the entire call.
The entire live audio chat with Janie and Dr. Lowe will come right on your computer, so remember to turn your audio up.
Additionally, those who log in can also choose to call in and ask Dr. Lowe direct question. Don't miss this great opportunity!
The Stop the Thyroid Madness Talkshoe page: http://www.talkshoe.com/talkshoe/web/talkCast.jsp?masterId=62603&cmd=tc
********************
See the blog post below for a very insightful Guest Blog Post by Amy about her role as an Undercover Thyroid Advocate. Below that, you can read how I was wrong about what it was like to be thyroidless, and several great comments.
Important notes: All the information on this website is copyrighted. STTM is an information-only site based on what many patients worldwide have reported in their treatment and wisdom over the years. This is not to be taken as personal medical advice, nor to replace a relationship with your doctor. By reading this information-only website, you take full responsibility for what you choose to do with this website's information or outcomes. See the Disclaimer and Terms of Use.