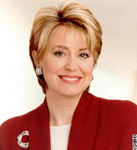 Though this post was originally written in 2009, the principles and information are still applicable today!
You might have already known about her, but it was only a few days ago when I found out that the effervescent Jane Pauley, former host of the The Today Show and Dateline NBC, has had certain medical struggles in her lifetime. They have included hives (treated with steroids), depression (treated with an anti-depressant), a bipolar disorder (treated with lithium), and the autoimmune thyroid disease called Hashimoto's (treated with Levoxyl).
Hives are sudden small raised bumps which can mass into patches, and are often itchy and miserable. Bipolar, also called Manic Depressive Disorder, involves swings between extreme mania (excited, energetic) followed by depression (extreme sadness or lowered response to life).
And all the above four issues made me pause. Consider the following:
1. Hives have not only been linked to hashimoto's disease for some, they have both been successfully treated with the most brilliant medication for hypothyroidism ever created: natural desiccated thyroid. That healing connection was revealed by the beloved Dr. David Derry of Canada here. Hives is also mentioned as a lingering hypothyroid symptom while on T4 meds which went away with desiccated thyroid.

2) Depression is all too common for those with undiagnosed hypothyroidism (thanks to the lousy TSH lab test) or undertreated thyroid disease (thanks to the lousy T4-only meds like Synthroid which promotes depression and other lingering symptoms). Many patients report a resolution of their depression with desiccated thyroid if they understood that it's about "optimal" doses. See the green graphic here.

3) Bi-polar can often be a misdiagnosis for Hashimotos disease, since the latter can cause the same swings. Even without Hashi's, bipolar and other mental health issues can be a common manifestation of low cortisol aka adrenal fatigue, also caused by undiagnosed hypo because of the TSH, or undertreated hypothyroidism with T4. At the very least, bipolar can be a common manifestation of a hypothalamus-pituitary—adrenals (HPA) axis dysregulation, again common with those undiagnosed or undertreated hypothyroidism.

4) Lithium, ironically, is a known cause of hypothyroidism if taken in high doses, only making one's thyroid situation worse, as well as promoting potential adrenal fatigue and low cortisol.
Now granted, Jane's big four of hives, depression, bipolar, and thyroid disease could be coincidental. But there's so much connection in one way or another between them that you are left wondering if she's been a victim of misdiagnosis and undertreatment just like hundreds of millions of us thanks to labs and medications which do not work. And she may need a good doctor to be reevaluated, besides put on desiccated thyroid and discover what patients have learned about better treatment.
And on another note: I fear it's going to take someone just as powerful, and as stricken with health issues which could be related, as Jane Pauley is, to FINALLY break open the profound and destructive media silence about this scandal of thyroid treatment diagnosis and treatment which has left hundreds of millions SICK with profound stories, and is the very reason Stop the Thyroid Madness exists. Do we dare hope? We'll see.
Do you have a similar story of mental health issues that ended up being connected to your thyroid and/or adrenal state? Use the Comment form and let's talk. Who knows–maybe Jane will see this, ponder, and become far better educated like we've had to become!
Important notes: All the information on this website is copyrighted. STTM is an information-only site based on what many patients worldwide have reported in their treatment and wisdom over the years. This is not to be taken as personal medical advice, nor to replace a relationship with your doctor. By reading this information-only website, you take full responsibility for what you choose to do with this website's information or outcomes. See the Disclaimer and Terms of Use.