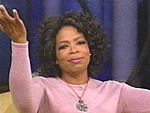 The news this morning about Oprah made me pause.
Yes, it's being announced today that there will be no more Oprah Winfrey Show on CBS after Fall of next year. She's saying goodbye. And the rumor is that she will move her talk show to The Oprah Winfrey Network, which replaces the Discovery Health Channel. We'll see when she formally announces it today on her show.
But the change sure does shine a bright spotlight on a colossal and complete failure by Oprah and The Oprah Winfrey Show for hundreds of millions of thyroid patients. Though she had her own bout with thyroid disease (and may still be dealing with it when you consider her weight issues), we all winced a year ago when she stated that a month long Hawaiian vacation and eating fresh foods with soy milk (a goitrogen) were a great way to treat her thyroid condition. Yikes. We equally squirmed in our seats when Dr. Christiane Northrup made the comment that our thyroid problems were due to an "energy blockage in the throat region, the result of a lifetime of 'swallowing' words one is aching to say." Double yikes.
And since then, we have watched nothing, zilch, zero from Oprah and The Opray Winfrey Show about a horrendous 55-year medical scandal of thyroid treatment that has negatively affected the lives of hundreds of millions of thyroid patients worldwide. T4-only meds like Synthroid, the darling medication of the medical community for hypothyroidism treatment, has left hundreds of millions sick. The TSH lab test has equally sent us to hell. Because we have been forced to live with continuing symptoms of hypothyroidism, we've endured much more testing and have been put on many other medications to bandaid our continuing symptoms. And a majority of us have had to deal with the additional burden of adrenal fatigue thanks to all the above.
It's been hell, Oprah. But you never listened. So for me personally, I could care less what you do now. You've let millions of us down.
********************************
On a far better note: Last night's Thyroid Patient Community Call on Talkshoe was excellent. From thyroid/adrenal patient Valerie Taylor, who is absolutely one of the most knowledgeable patients in the world about adrenals and RT3, we gained good information how it raises its ugly head when you have high or low cortisol, low B12, low ferritin and other untreated issues, and how to treat it. You can go back to Talkshoe and listen to the broadcast, which was Episode 7. See my blog post right below this. As far as future Talkshoe Community Calls: they will always be announced here first.
Below that, you'll read how cellulose as a filler just may be a huge problem in natural desiccated thyroid meds. But we are also discovering that a good desiccated thyroid like Naturethroid, even with its cellulose, can seem even worse if we have undiscovered and untreated issues like low B12, low Vit. A, low ferritin, low Vit. D and other conditions common with hypothyroidism. Make sure you have tested for these.
*HO HO HO! Have a STTM book sent to someone you care about as a CHRISTMAS or HOLIDAY present. All the work is done for you!
Important notes: All the information on this website is copyrighted. STTM is an information-only site based on what many patients worldwide have reported in their treatment and wisdom over the years. This is not to be taken as personal medical advice, nor to replace a relationship with your doctor. By reading this information-only website, you take full responsibility for what you choose to do with this website's information or outcomes. See the Disclaimer and Terms of Use.