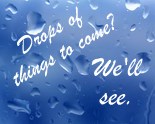 Surely most anyone who has been outside has felt a little drop here…then a little drop there…and you wondered: am I getting ready to be rained on?
Now I'm making no guarantees nor saying this is absolute fact…but because of emails I'm getting and other information, I'm seeing little drops of potential evidence that we may be seeing the beginning of a return of natural desiccated thyroid in our pharmacies. Are we?
For one, a patient called the Forest Hotline today (866) 927-3260, and it said that the 4 and 5 grain is available. Is that an old recording, or could that be a possibility at some pharmacy here or there? Granted, Forest states that the problem of backorders has been found in the "complicated steps in the supply line", and "one factor is the supplier". But if the 4 or 5 grain tablet is available, is something getting through here or there?
Then comes an email from a gal stating she was told by her large national pharmacy that Armour would be in stock by the middle of October. That is similar to a comment on another blog post below.
Also, American Laboratories, the producer and supplier of desiccated powder, has always stated that they continue to make it–just not enough to meet the demands of larger pharmaceuticals all at once. i.e. perhaps some is getting through.
Little positive rain drops of clues? Maybe. I'm not sure what the near future holds. And there are unanswered questions, such as will Armour still be ineffective for so many in its reformulated state? In what way, and when, will the FDA follow through on the 1960's Drug Efficacy Study Implementation (DESI) to prove that desiccated thyroid is safe and effective (which still makes most of us want to ask "Aren't 110 years enough evidence?")
In the meantime, there are options you can use for good thyroid treatment here. Just work with a good doctor if you use any of these options. But a caveat–a few Canadian pharmacies have doubled their prices!! Ouch. I find that very nasty and unethical. So check their prices on the website as compared to what was listed on this page. And GOOD NEWS: a German pharmacy will ship out its own brand of desiccated thyroid. See it on the Options page.
There continues to be good feedback from patients that most compounding pharmacies have plenty of desiccated thyroid powder in stock. The above link gives information on how to find a compounding pharmacy. I have used one before that mailed my order to me after my doc faxed the prescription.
Join the Thyroid Patient Community Call on Talk Shoe this Friday.
Important notes: All the information on this website is copyrighted. STTM is an information-only site based on what many patients worldwide have reported in their treatment and wisdom over the years. This is not to be taken as personal medical advice, nor to replace a relationship with your doctor. By reading this information-only website, you take full responsibility for what you choose to do with this website's information or outcomes. See the Disclaimer and Terms of Use.