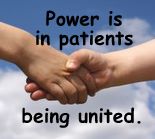 Hi Mary.
You know, I really don't think this is a time for us to be separate, Mary, in our advocacies. Seven years ago, I went a different direction that I felt was important, and still strongly do, as an activist. That will continue because I believe in what I am doing. You don't have to agree with my stance, but we can make the choice to work together in what is common between us–supporting the use of desiccated thyroid and helping others with the shortage.
As I see it, Mary, we each have a wonderful legacy. You will always be appreciated for your work as much as many appreciate my work. That will never be taken away.
So why not be united in this fight, Mary, working together to support patients during this shortage. Thyroid patients need us.
Janie
Important notes: All the information on this website is copyrighted. STTM is an information-only site based on what many patients worldwide have reported in their treatment and wisdom over the years. This is not to be taken as personal medical advice, nor to replace a relationship with your doctor. By reading this information-only website, you take full responsibility for what you choose to do with this website's information or outcomes. See the Disclaimer and Terms of Use.