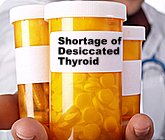 Word has trickled down to me from a few patients and emails that even Naturethroid is getting harder to come by at pharmacies because of the extreme demand on RLC Labs.
No, they are not ceasing to make desiccated thyroid. They just weren't prepared for the high demand due to the reformulation of Armour and problems it caused. And they aren't keeping up and won't for several months.
So, if you can't last with your current prescription for several months, you will probably need to talk to your doc about getting a generic version by Major Pharmacy, or get some over-the-counter like NutriMeds, or even the "Hypo Support Formula" made by RLC Labs, but expect to take much more of either. Many patients are also mentioning Thyroid-S by Greater Pharma as a backup until RLC catches up. But it's by mail order and will take a few weeks to arrive. Google any of the above. Finally, you can move a slight step backwards and talk to your doc about doing synthetic T4 and synthetic T3. It's not going to be quite a good as being on desiccated thyroid, but it's certainly better than being on T4 alone, don't you agree?? Keep connected to your doc. And hang in there. This will pass.
Janie
P.S. I'll be adding more information to this post tomorrow. Check back.
*Want to be informed of these posts? Curious what's on Janie's mind? Use the Notifications on the left and below the links.
Below is the actual release by RLC Labs:
For any patients experiencing difficulties in attaining either Nature-ThroidTM or WesthroidTM through their pharmacy, RLC Labs, Inc, asks these individuals to have their pharmacy contact us directly at 877-797-7997 to place an order, or have their pharmacy request a drop-shipment through their wholesale supplier.
RLC Labs' products are only available through wholesalers, pharmacies and or their doctors; thus all confirmations and/or tracking information will only be available through the wholesaler, pharmacy, or doctor's office that placed the order.
RLC Labs is experiencing a substantial increase in orders for Nature-ThroidTM and WesthroidTM. The recent unexpected influx has inundated our customer service and shipping departments, thus causing delays and depleting our current stock. We are working around the clock to fulfill all current orders; however, we cannot guarantee that
any future orders will be fulfilled until our stock is replenished.
RLC Labs will continue to accept orders from our customers, however as of Friday August 14th, we are backordered on all strengths of Nature-ThroidTM and WesthroidTM. Shipment is expected to resume within 90 days.
We regret to inform you of this situation; however, we can assure you that we are working diligently to replenish our stock and will resume shipping as soon as possible. Please accept our sincerest apology for any inconvenience.
We do understand how much of an impact this has as most of us employed @ RLC Labs, are hypothyroid and take our own product. Thus, we know and understand how important it is to get product back into the market place. We are grateful for your continued patience, patronage and support!
Feel free to contact our customer service department with any questions concerning this matter @ 877-797-7997.
Thank you from all of us @ RLC Labs, Inc.
Important notes: All the information on this website is copyrighted. STTM is an information-only site based on what many patients worldwide have reported in their treatment and wisdom over the years. This is not to be taken as personal medical advice, nor to replace a relationship with your doctor. By reading this information-only website, you take full responsibility for what you choose to do with this website's information or outcomes. See the Disclaimer and Terms of Use.