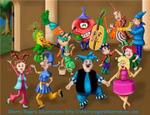 STTM's Armour-vs-other-brands page now has information on desiccated thyroid in Denmark, Germany and Italy: www.stopthethyroidmadness.com/armour-vs-other-brands Thanks go to Julia Hendryx for alerting me about the brand in Denmark!
If I need to add more info or corrections, please use the Contact Me form at the bottom of any page on Stop the Thyroid Madness.
THIS PATIENT REVOLUTION for a better hypothyroid treatment is working! Desiccated thyroid brands which were almost extinct from low use are now seeing a comeback. Another comeback?? PATIENT HEALTH!! T4-only meds do NOT work, unless an elevator which only goes to the 5th floor of a 50 story building….works. My quote; my words.

p.s. See the post below about the importance of your potassium levels, and below that, how being hypothyroid can affect your liver, and my opinion of that fact with T4 meds vs. desiccated thyroid, which one comment disagrees with. For the May 7th post, comments are still coming in about the "New" Armour. Express yours, and let's hope that just raising it will do the trick, in spite of the loss of being able to do it sublingually as easy as before–a sad loss.
*Want to be informed of my blog posts? Curious what's on my mind? Use the Notifications on the bottom left of the links.
Important notes: All the information on this website is copyrighted. STTM is an information-only site based on what many patients worldwide have reported in their treatment and wisdom over the years. This is not to be taken as personal medical advice, nor to replace a relationship with your doctor. By reading this information-only website, you take full responsibility for what you choose to do with this website's information or outcomes. See the Disclaimer and Terms of Use.