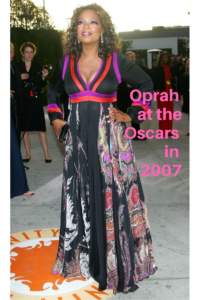 (This blog post was originally written in 2007, and informed thyroid patients at the time were disappointed in Oprah for not being informed or a good spokeswoman about the horrific way hypothyroid was being treated. Nothing changed. So we as patients just kept trodding along, chatting with each other.)
I have had many folks email me about their concern that Oprah is not only failing to get the message about her thyroid issue, but thyroid advocates and interviews are not sending the message about what information is needed out there…and the media has STILL not caught on to this HUGE treatment scandal of the use of T4-only meds and the TSH lab. So, by request, I have created a letter template that you can use to be part of a massive letter-writing campaign to Oprah.
Yes, I'm sure she's very distracted by the heartsick tragedy of her Leadership Academy for Girls in South Africa, but it may also worsen her thyroid condition, as well as create a potential adrenal problem. So THIS is the TIME to make a MOUNTAIN in her mail room. Go here: www.stopthethyroidmadness.com/letter-to-oprah-winfrey/
Please note that you can also use the above template letter to email her, but if we can ALSO send REAL LIVE letters as outlined in the above page, that can make a HUGE VISUAL difference as to what we are trying to tell her.
Important notes: All the information on this website is copyrighted. STTM is an information-only site based on what many patients worldwide have reported in their treatment and wisdom over the years. This is not to be taken as personal medical advice, nor to replace a relationship with your doctor. By reading this information-only website, you take full responsibility for what you choose to do with this website's information or outcomes. See the Disclaimer and Terms of Use.