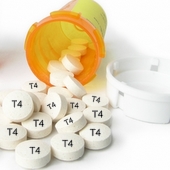 The needle on the record player keeps skipping over the same note. News/Entertainment programs like NBC's The Today Show continue to present the same inaccurate globbity-glook that has always been presented by news media.
The segment on today's April 10th program, in a "Today's Woman" interview by Katie Couric with Dr. Judith Reichman, was only more of the same flawed and toxic information that has kept potentially MILLIONS of thyroid patients sick for decades.
So what if the TSH "is a very simply blood test", as stated by Reichman. It's an INACCURATE blood test! The TSH test, with it's lousy range, fails to show the problem for years, even while patients have symptoms that scream hypothyroid–which of course, doctors ignore. And when the TSH does show a problem, the patient is kept within it's dubious range, and told that those lingering hypo symptoms have nothing to do with their thyroid. Give me a break.
Additionally, it was clear that the medication of choice referred to by Reichman is the substandard T4-only medication, commonly known by the brand names Synthroid or Levoxyl. THEY DON'T WORK, any more than an elevator that only rises to the 5th floor in a 50 story building "works"!!
This site does not exist because T4 meds have been working! This site exists because thousands upon thousands of patients have had continuing symptoms on these lousy medications for years upon years, and have been ignored and put on anti-depressants, statins, and anti-anxiety meds (to name a few) to counter the very symptoms brought on by an inferior medication and a rigid reliance on a TSH lab test.
To NBC'S TODAY SHOW: if you are simply a monstrous media machine that regurgitates the same lousy and vacant information that has always been out there, so be it. Your reputation will preceed you. Or, if you want to become known as a organization that is UP-TO-DATE and willing to HELP the millions of viewers who can potentially be watching you, GET IT RIGHT!!! Because what you presented on this segment STUNK TO HIGH HEAVEN and only serves to keep millions of thyroid patients sick.
Important notes: All the information on this website is copyrighted. STTM is an information-only site based on what many patients worldwide have reported in their treatment and wisdom over the years. This is not to be taken as personal medical advice, nor to replace a relationship with your doctor. By reading this information-only website, you take full responsibility for what you choose to do with this website's information or outcomes. See the Disclaimer and Terms of Use.