Margie's story
Short and sweet, this is the story of Margie and how Synthroid harmed her and Natural Desiccated Thyroid changed her life!
In January, we planned a trip to Disney World with my daughter, son in law and granddaughter. I was feeling so ill at that point, that I really didn't know how I would withstand the rigors of a trip to Disney! I was depressed and anxious and was so worried that the trip would be spoiled due to my inability to keep up.
In April, I switched from Synthroid to an Natural Desiccated Thyroid (NDT) and my life totally changed! I'm thrilled to say that our trip is now in the history books and I came through it with flying colors. We averaged 5 miles per day walking and that doesn't include the countless hours standing just waiting in lines!
I feel blessed and I attribute a lot of the success to things I've learned from STTM. This picture was taken on the last day waiting for our ride to the airport.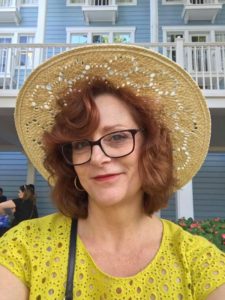 Important notes: All the information on this website is copyrighted. STTM is an information-only site based on what many patients worldwide have reported in their treatment and wisdom over the years. This is not to be taken as personal medical advice, nor to replace a relationship with your doctor. By reading this information-only website, you take full responsibility for what you choose to do with this website's information or outcomes. See the Disclaimer and Terms of Use.