The SPANISH VERSION of Stop the Thyroid Madness is out !!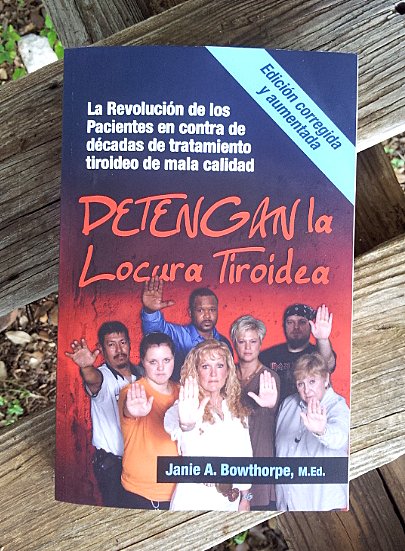 Presentando la Edición en Español 2013 de
DETENGAN LA LOCURA TIROIDEA: Una Revolución de Pacientes en Contra de Décadas de Mala Calidad
¡El único libro de PACIENTE A PACIENTE basado en el tratamiento exitoso a nivel mundial de tiroides, adrenales y condiciones relacionadas!
Basado en la experiencia de una gran número creciente de pacientes alrededor del mundo junto con varios doctores sabios y bondadosos, esta es la experiencia de paciente a paciente, lleno de información práctica, comprensiva y fácil de usar acerca de mejor tratamiento para tiroides, análisis de laboratorio reveladores y condiciones que acompañan al hipotiroidismo —todo con el fin de educarte más y hacerte proactivo cuando entres al consultorio del doctor.

Uno de los libros de tratamientos más detallados que jamás has leído… y leído… y leído.
Esta "biblia de tratamiento de tiroides" contiene:
Más detalles acerca de la historia del uso de T4 y por qué nunca ha funcionado.
La historia de la tiroides disecada y por qué funciona.
Un capítulo completo sobre la pobre prueba de TSH (
Un capítulo completo en T3, T3 inversa y cómo interpretar esos análisis de laboratorio y dosis.
Más acerca de causas de hipotiroidismo.
Más detalles en dos extensos capítulos en fatiga y disfunción adrenal.
Un capítulo acerca de problemas de salud mental desde una perspectiva irónica.
Un adendum exhaustivo sobre cómo interpretar tus resultados de cortisol salival por el paciente de adrenales e hipopituitaria Bob Harvey.
Un capítulo específicamente para doctores.
Información de paciente a paciente sobre dosis de tiroides disecada.
Nuevos escenarios de casos por todo el libro.
Recursos actualizados.
¿QUÉ HAY EN LA SEGUNDA EDICIÓN REVISADA?
Un nuevo capítulo sobre suplementos y buenos alimentos.
Más detalles en la disfunción adrenal/HPA además de cómo tratarla.
Detalles adicionales en T3 inversa y cómo tratarla.
Más acerca de tiroiditis de Hashimoto y problemas con el gluten.
Detalles extras acerca de hierro, ferritina y laboratorios.
Un resumen de cómo leer tus resultados de laboratorio además de cómo prepararte para los análisis.
Cambios actualizados a CADA CAPÍTULO además de 36 nuevas páginas, todo por el mismo precio que antes.
(
Si fuera de los Estados Unidos o Canadá; De 'Country', seleccione internacional. De 'Language', elija Español pre-order. En la segunda página, utilice Drop Down menú a elegir entre dos opciones de envío.
Important notes: All the information on this website is copyrighted. STTM is an information-only site based on what many patients worldwide have reported in their treatment and wisdom over the years. This is not to be taken as personal medical advice, nor to replace a relationship with your doctor. By reading this information-only website, you take full responsibility for what you choose to do with this website's information or outcomes. See the Disclaimer and Terms of Use.