Pay It Forward by donating towards the cost of the STTM Publicist!
WHAT IS THIS PAGE ABOUT?? The last three months of 2011, I, Janie, paid for a publicist for STTM out of my own savings. It was a way to reach more folks who linger on T4-only. Then, January and February were paid for by many generous donations by thyroid patients–$1500 total each month. All of it resulted in great interviews which reached more folks–you can see them below. But it took a lot of donations to come up with the amount each month, and they started to fall. The contract with the publicist ended.
So, there are two ways you can still help if you find this page: 1) THE MOST AFFORDABLE: consider donating to the expensive hosting fees for this huge website. You'll see that at the bottom right of the homepage. I don't care if it's $20 or $50 or $100. It will help keep this site up. 2) THE MOST EXPENSIVE: for those who have it, I am only going to ask for a full month of publicist fees: $1500. It will enable me to immediately contact the publicist and start her going on with interviews and articles to reach more folks.
********************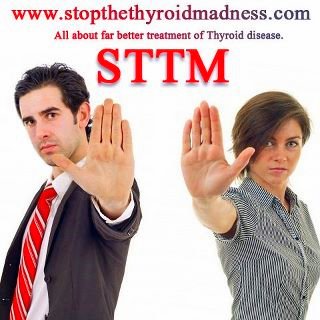 Have you benefitted from Stop the Thyroid Madness? Get tired of the continual problems due to T4-only meds that you see in friends, family and acquaintances?? Want to Pay it Foward??
Janie A. Bowthorpe, representing Stop the Thyroid Madness LLC, has hired a top-notch boutique publicity firm, PR by the Book in Austin Texas, to help spread the word to those still on T4-only meds, or those undiagnosed due to the TSH. They easily represent millions of individuals, and who are not being reached by the media.
What will the publicist be doing? She is representing STTM and contacting a variety of blog posts, women's magazines, radio programs, internet websites and even TV…to set up live or recorded interviews, get websites to put up articles I have written, do a book review, etc. You can see what she has done already, below. And ironically, even the publicist assigned to STTM has been one of those millions being treated with Synthroid and dealing with several problems as a result of an inferior treatment. She is impressed with STTM.
Is it expensive using a publicist?? Very! For just 18 hours a month of work by the publicist, the cost is $1500…a month. I dug deep in my pockets to pay for the first three months. And for this to continue, I need help!!
Is my donation private? Completely. No one will know but you and me.
Does Janie get any of it? No. Not a penny. It all goes to the publicist.
If you believe in the patient-to-patient message of STTM, and have a passion to help get the word out to millions, either undiagnosed or underdosed, click on DONATE below–you can either use your PayPal account, or just a credit card without a PayPal account.
Please pay forward what STTM has given you. 🙂 Once I get enough to pay for a full month, I will rehire the publicist.
(Photo above courtesy of Sam-Aliyev)
***THE INTERVIEWS I DID THANKS TO THE PUBLICIST, from November 2011 to March 2012***
TUESDAY, NOVEMBER 22
Radio Interview with The Resident | DMA: Hartford, CT; Circulation: 41K
MONDAY, NOVEMBER 28
Radio interview on WDVR-FM | DMA: NYC; "The LowDown", Taped with host Victoria Davis
MONDAY, NOVEMBER 28;
Radio interview on KXLO-AM | DMA: Great Falls, MT; "KXLO Live", host Phyllis Hall
MONDAY, NOVEMBER 28
Podcast interview "Demystifying the Thyroid"; Lisa LeVerrier, host
THURSDAY, DECEMBER 1
Radio taped interview: WQUN-AM | DMA: Hartford/New Haven; "Reporter at Large" John D'Andre, host; TOPIC: Why the holidays really exhaust you. http://www.quinnipiac.edu/x981.xml
SATURDAY, DECEMBER 3
Radio interview with Life Lessons Radio on Blog Talk Radio, "America's Favorite Lessons Show", Rick Tocquigny, host,
MONDAY, DECEMBER 5
Live radio interview on KXLO-AM | DMA: Great Falls, MT, Phyllis Hall, host www.kxlo-klcm.com
WEDNESDAY, DECEMBER 7
Phone interview for Womensheart.org Bonnie Arkus, R.N, Executive Director,
FRIDAY, DECEMBER 9
Interview with WBZ-AM, "Women's Watch" in Boston, Mass. Ellen Sherman, host; http://boston.cbslocal.com/
TUESDAY, DECEMBER 20
Radio interview with BBS Radio Network, "Dresser After Dark" Suzy Greenman, producer, http://dresserafterdark.com/
FRIDAY, JANUARY 6
Radio interview with KMA-AM, "The Chuck & Don Show", Omaha, NE, Hilda Long, Producer, www.kma960.com
WEDNESDAY, JANUARY 18
Radio interview, 7:20 pm CENTRAL, on KJCE-AM, "Let's Get Healthy", Austin Texas, Bill Swail, host (co-host: Dr. Victor Carsrud, DC); http://www.talkradio1370am.com/pages/405616.php
SATURDAY, JANUARY 21
Radio interview, 11:30 AM CENTRAL, on KLGO-FM, "Good News health Show", Austin, Texas, Bill Swail, host (co-host: Dr. Victor Carsrud, DC); http://www.klgo.net/program-schedule/?day=6#
SATURDAY, JANUARY 21
Radio interview, 5 pm CENTRAL, on KLBJ-AM, "Healthy Choices", Austin, Texas, Ray Solano Ray Solano, RPh, CCN (co-host: Dawn Welch, Naturopath/Homeopath); http://www.newsradioklbj.com/shows/weekend.aspx
****All above Austin Texas shows are later pod-casted and accessible from the Radio Programs page of our website: www.peoplesrx.com.
WEDNESDAY, FEBRUARY 1
Blog Talk Radio Interview, 6:00 PM CENTRAL, 30 minutes, "Health Talk with LymphMan", John Ossipinsky, host,
http://www.blogtalkradio.com/health-talk-radio-with-lymphman
MONDAY, FEBRUARY 13
Radio Interview at 9:33 AM CENTRAL, KKNW-AM, "Conscious Talk Radio", Seattle Washington, Live, Brenda Michaels, host, www.conscioustalk.net for live stream (or if problems, go to: www.1150kknw.com and follow streaming directions)
MONDAY, FEBRUARY 13
5:30 PM CENTRAL, Blog Talk Radio. "Conversations LIVE!" Cyrus Webb, host, ABOUT THE SHOW: This award-winning show connects you every week with the authors and artists you love who give you the books and music you can't get enough of. ABOUT THE HOST: Webb has a radio and television show, and internationally recognized book club and a bi-monthly arts and entertainment magazine. TOPIC: Low libido on Valentine's Day. www.cyruswebb.com The show will be streaming live at www.blogtalkradio.com/conversationslive
TUESDAY, FEBRUARY 14
NOON CENTRAL: Radio interview on Blog Talk Radio, "Dr. Rose"; Dr. Robert Rose, host; TOPIC: Low libido/relationship. www.blogtalkradio.com/icdrrose & www.youtube.com/icdrrose
WEDNESDAY, FEBRUARY 15
3 pm CENTRAL; WOR-FM "Health Talk with Dr. Ronald Hoffman", New York, Live, One hour. www.drhoffman.com; twitter.com/wor710
WEDNESDAY, MARCH 21
2 pm Central. Radio interview on KKNW-AM (Seattle), WebTalkRadio & Contact Talk Radio Network; "Fresh Start – Light at the End of the Tunnel" Penny Reynolds, producer, Host is Sallie Felton. http://ctrhotspot.com/
SATURDAY, MARCH 24
Blog Talk radio interview on Life Lessons Show. 12 Noon CENTRAL. Host is Rick Tocquigny. www.thelifelessonsbook.com
********************
PAST INTERVIEWS YOU CAN LISTEN TO:
http://www.blogtalkradio.com/conversationswithmusic/2012/02/13/janie-bowthorpe-and-victor-kwegyir-on-conversations-live
Important notes: All the information on this website is copyrighted. STTM is an information-only site based on what many patients worldwide have reported in their treatment and wisdom over the years. This is not to be taken as personal medical advice, nor to replace a relationship with your doctor. By reading this information-only website, you take full responsibility for what you choose to do with this website's information or outcomes. See the Disclaimer and Terms of Use.