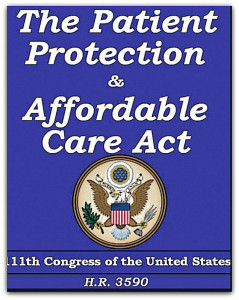 US Thyroid patients have been abuzz behind the scenes for months about what the Patient Protection and Affordable Care Act ((PPACA), aka Obamacare, will mean for them, positively or negatively.
And more discussion has been sparked by the disastrous enrollment launch since October 1st, followed by many of us going through the shock of our private insurance being cancelled, or facing much higher premiums. So questions and concerns abound.
Of course, the stated intent of this healthcare reform, says Obama Care Facts, is to "give more Americans access to affordable, quality health insurance and to reduce the growth in health care spending in the U.S." In other words, it's supposed to give affordable healthcare to those who have been uninsured or improve the terms of the health insurance you already have.
But is the latter so for thyroid patients? Will we as thyroid patients be better off? Let's look at the Affordable Care Act in general first.
Obamacare's stated benefits and facts are:
It will mostly benefit a large body of the uninsured, as well as those who don't have employer-based or government-based health insurance.
Premiums will vary depending on the state you live in, your age, health, income, and which of four plans you decide upon.
You can choose between four types of medical plans with Obamacare–better plans mean higher premiums but lower out-of-pocket costs.
You can still have private insurance plans instead.
There will be a Medicaid expansion to cover more people in approx. 26 states
Medicare recipients will have an easier time getting prescription drugs.
Certain preventative medicine will be covered 100%, including health, dental and vision.
You can buy Obamacare health coverage until March 31, 2014. If you don't buy any health coverage, you may pay a tax penalty of $95 or 1% of your taxable income in 2014
Larger businesses will be required to provide insurance for their employees.
Your won't be charged extra if you have to go out of your area for emergency room visits.
You'll be covered for goods and services to help you maintain a standard of living if you have a chronic disease like Multiple Sclerosis
All preventative care lab tests will be covered before you are diagnosed.
Obamacare effects private insurance companies this way:
All participating health insurance companies are required to cover services in ten Essential Health Benefits categories, from emergency room and hospital care to mental health and approved prescription benefits.
You cannot be dropped because you have an illness or because of pre-existing conditions or charged more.
Your yearly out-of-pocket costs are limite
There will be no annual or lifetime limits to your insurance.
You cannot be discriminated against because of your gender.
Young adults can stay on their parents plan until they are 26 years old, and low budget plans until they are 30.
You have the right to rapid appeal of insurance company decisions
Whatever prescription meds that you pay out-of-pocket will count towards your deductible.
There will be free yearly check-ups, immunizations, counseling, and screenings for all non-grandfathered plans at no out-of-pocket costs
You will still have several different insurance plans in the Marketplace to choose from.
And the negatives as outlined by critics:
Not all preventative tests you might want or need will be covered.
It's going to be a one-size, fits all policy created by your federal government, as if all people fall under one umbrella of needs, lifestyles and goals.
Treatment goals by hospitals may end up being related to whether they are financially rewarded by the government for that treatment or not.
Like an HMO, your network of doctors to choose from will be narrower if you go with Obamacare, which means you may not be able to use your current doctor.
Up to 30 million still won't be insured.
A survey completed by The Doctors Company found that 60% of physicians feel their patients will get less quality of care due to the Obamacare pressure to decrease costs and improve their patient load. It will also cause 43% of doctors to go into early retirement.
Private insurance premiums will probably go up for most.
The higher premiums in exchange for stated better coverage will only be a good trade for those who have hefty medical expenses in any given year.
So how might thyroid patients see all this??
1. Obamacare says that all preventive care lab tests will be covered. This could continue to mean that the most favored test to diagnose thyroid disease will be the TSH, similar to what veterans in the VA system get, and which thyroid patients know has been an abject failure for diagnoses since its inception in the 1970s. So the thyroid madness with the TSH might sadly continue.
2. Obamacare says that you'll be covered for goods and services to help you maintain a standard of living if you have a chronic disease. Thyroid patient skeptics have expressed doubts that we will be covered for the chronic and debilitating low cortisol issues we tend to have–the latter usually due to undiagnosed or undertreated hypothyroidism from the use of the TSH lab test or T4-only treatment. Then think of the disability from Lyme and compromised immune function and you have a continuation of the problems we encounter today, on top of how adrenal issues keep us from working.
3. Obamacare will have standardized kinds of treatment. Say thyroid patient Andy: "That can certainly be a disappointment if they favor T4-only for hypothyroidism, just as government-run VA care does for my Dad", and which leaves him with worse problems than he had when diagnosed. And a large body of thyroid patients know what an abject failure T4-only treatment has been. i.e. the failure of T4-only like Synthroid, whether from the beginning or the longer one stays on it, is not isolated.
4. Obamacare states that because of the required Essential Health Benefits categories your insurance has to cover (preventative medicine), it will allow more people to find and treat chronic diseases before you have to go into the emergency room. If the government believes the fantasy that the TSH is the best way to diagnose, or T4 is the best treatment, or the low cortisol problem doesn't exist except for Addisons patients, or the only test for cortisol levels is blood testing instead of saliva (the latter which we know gives far better information)…some thyroid patients aren't going to avoid the emergency room.
5. Obamacare has always said you can keep your doctor. But with recent news revealing millions of people are experiencing cancellation of their insurance policies, that may not be so, which can be crushing if you finally found a doctor who isn't obsessed with the TSH and T4-only medications, or who understand the low cortisol problem. If you aren't able to keep your current health plan, and have to purchase another coverage, the latter may not cover your current doctor. You'll need shop for a plan that does.
In other words, whether one is for or against Obamacare, it may continue the backwards diagnosis and treatment of hypothyroidism, plus new issues and direction that everyone will have to deal with on top of it, both positives and negatives.
Read more:
http://cbo.gov/sites/default/files/cbofiles/attachments/44190_EffectsAffordableCareActHealthInsuranceCoverage_2.pdf
http://obamacarefacts.com/obamacare-facts.php
http://obamacarefacts.com/insurance-exchange/health-insurance-plans.php
http://www.washingtonpost.com/blogs/wonkblog/wp/2013/09/30/%3Fp%3D63297/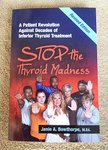 **Laughing Grape Publishing has moved to PayPal payments for the acclaimed and revised Stop the Thyroid Madness books! All SPANISH books are on sale via LGP only–i.e. 19.95 instead of 24.95.
**SIGN UP to receive these blog posts right to your email. It's on the left of the STTM blog post page.
Important notes: All the information on this website is copyrighted. STTM is an information-only site based on what many patients worldwide have reported in their treatment and wisdom over the years. This is not to be taken as personal medical advice, nor to replace a relationship with your doctor. By reading this information-only website, you take full responsibility for what you choose to do with this website's information or outcomes. See the Disclaimer and Terms of Use.