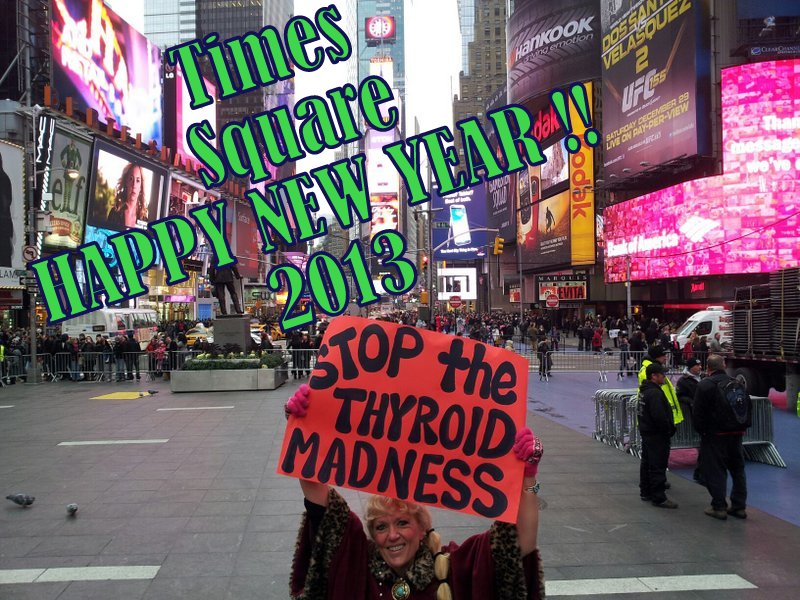 HAPPY NEW YEAR 2013, THYROID PATIENTS AND FRIENDS FAR AND WIDE!
Stop the Thyroid Madness is pleased to present the FLAT STTM campaign–a way to have fun while sending a serious message from all over the world.
Here's how it works…
THE FUN PART: You'll need to create a flat representation of the words STOP THE THYROID MADNESS. It can be on a poster board, or the back of a pizza box, or even on your hand. Then put yourself and the "Flat STTM" in front of a landmark anywhere around the world. You could be standing in front of the Eiffel Tower, or in the middle of the Arizona crater, or in front of the Greek Parthenon, or standing next to the Kremlin, or in front of the the Statue of Liberty, or next to Prince Charles in the Wax Museum, or by your state monument, or to the side of your town sign, or in Times Square in New York City, or on top of a particular mountain…you name it. Just make it something recognizable to confirm where you are.
You will then upload your photo here: http://flatsttm.com REMEMBER to include your location details, plus your name. This URL will be spread all over the Stop the Thyroid Madness website–a site visited by hundreds of thousands of individual hits monthly (seriously)…including doctors!
THE SERIOUS PART: This new visual campaign by thyroid patients worldwide will send a strong message that patients are sick and tired of decades of the poor use of the TSH lab test, inadequate treatment with the wrong thyroid medications, ignorance about the problems associated with adrenals, low iron and more….and want medical professionals to be more open-minded about the efficacy of natural desiccated thyroid or T3, better labwork and how to read it, and successful patient experiences which just may go against what was taught in medical school.
JOIN US IN THE SERIOUS FUN WITH THE NEW "TWENTY THIRTEEN" CAMPAIGN, FLAT STTM!
Important notes: All the information on this website is copyrighted. STTM is an information-only site based on what many patients worldwide have reported in their treatment and wisdom over the years. This is not to be taken as personal medical advice, nor to replace a relationship with your doctor. By reading this information-only website, you take full responsibility for what you choose to do with this website's information or outcomes. See the Disclaimer and Terms of Use.