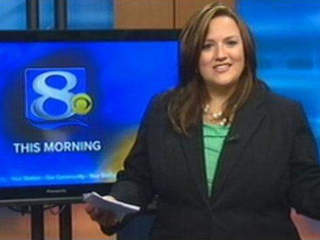 Jennifer Livingston, a mother of three adorable daughters, is a morning anchor at WKBT-TV in La Cross, Wisconsin and a very pretty one at that. And she received an email from a male viewer which stated that her excess weight was not a good role model for young girls. Jennifer's supportive husband Mike Thompson, who is an evening anchor on the same station and strongly supports his wife, posted the critical email on his Facebook page:
"It's unusual that I see your morning show, but I did so for a very short time today. I was surprised indeed to witness that your physical condition hasn't improved for many years. Surely you don't consider yourself a suitable example for this community's young people, girls in particular. Obesity is one of the worst choices a person can make and one of the most dangerous habits to maintain. I leave you this note hoping that you'll reconsider your responsibility as a local public personality to present and promote a healthy lifestyle."
Livingston followed this up with a bold four-minute rebuttal to the personal attack, emphasizing the cruelty of judging someone based on their exterior, especially considering she is very aware of her weight problem, and has worked hard to deal with it for years. She also referred to the bullying nature of the note. With October being National Anti-Bullying Month, this incidence hit a chord.
Jennifer's famous brother, actor Ron Livingston, also expressed support for his sister.
BUT JENNIFER, YOUR STORY GOES EVEN FARTHER AND DEEPER THAN YOU KNOW, AND YOU COULD CHANGE MANY LIVES OF YOUR LISTENERS AND BEYOND. YOU MAY BE A VICTIM OF A 50-YEAR THYROID TREATMENT SCANDAL!
You mentioned being on a thyroid medication, and you may be a victim of the same 50+ year thyroid treatment scandal that millions of overweight women have been part of : 1) the use of the TSH lab test, which can be "normal" for years even though the patient has clear hypothyroidism, or 2) the use of Synthroid or any other T4-only medication to treat the hypothyroid condition, which leaves patients with their own degree and kind of continuing hypothyroidism. And weight gain, plus difficulty losing it, is a common symptom of continued hypothyroidism for all too many
Neither the TSH lab test or T4-only meds like Synthroid work well, exclaim frustrated, or sick, or overweight, or angry patients all over the world!
Additionally, the longer patients stay on this lousy medication, the higher the risk of having low levels of Vitamin D, Iron, B12 and other important nutrients. More than 50% of T4-only treated patients fall into adrenal fatigue, aka low cortisol, due to the failure to get enough T3, the active thyroid hormone, into the cells of their adrenals. i.e. T4 is a storage hormone meant to convert to T3, but the body is not meant to live for conversion alone! T4 is only one of FIVE hormones secreted by the thyroid.
And it gets worse….
Many folks replied to the WKTB article about this incident. And one person stated in their post: "…..GIVE UP A FEW BURGERS AND CUT THE CHEESE. START MOVING JENNIFER!"
Jennifer, do you know how MANY thyroid patients with a weight problem have heard this well-meaning but terrible refrain from friends, loved ones, strangers and even some clueless doctors?? Oh sure, we know that eating healthy is important. Many already eat healthy! But continued hypothyroidism keeps our bodies like that of a snail. It affects our body temperatures (it stays much lower), how our muscles work and our blood circulates (true fatigue here), how we digest food (food tends to stay in our stomach longer), and how we eliminate waste (we tend to be constipated or slow eliminators). When we try to exercise, we end up in bed from the excess fatigue of continued hypothyroidism.
It's not a pretty picture, Jennifer….and it's just as bad as bullying for millions!
Learn from other thyroid patients: https://stopthethyroidmadness.com/things-we-have-learned
Here's my story: https://stopthethyroidmadness.com/my-story
Here are others stories: https://stopthethyroidmadness.com/stories-of-others
Here are the crazy things we have to listen to from our doctors: https://stopthethyroidmadness.com/give-me-a-break
Here's why Synthroid doesn't work for all too many: https://stopthethyroidmadness.com/t4-only-meds-dont-work
Here's why the TSH lab test sucks: https://stopthethyroidmadness.com/tsh-why-its-useless
Here are symptoms which went away with Natural Desiccated Thyroid: https://stopthethyroidmadness.com/long-and-pathetic
Here are many good thyroid patient groups: https://stopthethyroidmadness.com/talk-to-others
HELP US STOP THE THYROID MADNESS, JENNIFER, OF WHICH YOU MAY BE ONE MORE VICTIM!
Important notes: All the information on this website is copyrighted. STTM is an information-only site based on what many patients worldwide have reported in their treatment and wisdom over the years. This is not to be taken as personal medical advice, nor to replace a relationship with your doctor. By reading this information-only website, you take full responsibility for what you choose to do with this website's information or outcomes. See the Disclaimer and Terms of Use.