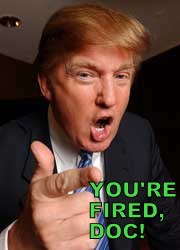 The following is a Guest Blog Post by thyroid patient N.P who is active on the main Stop the Thyroid Madness (STTM) Facebook group.
Hi. My name is N.P. In March of 2012, I started a post on the main STTM Facebook group page with the topic "How many doctors have you fired?". It not only ended up with over 1000 replies, but most were from exasperated and emotional patients about their terrible experiences with doctors. I even had a few who thought it didn't belong on Janie's site. I'm thrilled to be known for that, actually. Anything to entertain. Now…if you want my practical editorial of why my post has gone over the 1,000 comment mark, read on.
After 9 long years of a "wrong diagnosis" followed by wrong treatment strategies and all-too-many doctors, it took a psychiatrist to diagnose my Hashimoto's condition. After going gluten-free to manage the Hashimoto's disease, the same psychiatrist was the one who suggested I had Celiac Disease as well. What is wrong with this picture? Why did nine years of doctors never do their jobs??? Why did they let me suffer so?
I went through the various stages of emotion over the years, from being frustrated by mainstream medicine's poor understanding of my health, to the annoyance of not having answers, to the embarrassment of never having good explanations for my friends and loved ones. And when the only way I got answers was through Amazon, STTM/Janie Bowthorpe, Facebook and my psychiatrist, I had finally reached this familiar stage: cynicism. There's not much left after that except for throwing in some humor. That's why I started the post.
I sensed when I started the post that I was representative of many. Clearly, the post struck a nerve with a lot of patients and has been a great outlet for people needing to get their horror stories and frustrations off their chests. For those who are feeling desperate, as I have and still sometimes do, there's always a place for you on my post.
"Yeah, It's all wrong man…we shouldn't even be up here!"
The post was originally meant to give people a humorous way to vent their frustrations over the outrageously inept thyroid care that they've received. I quickly saw the fun in having it morph into a vehicle to ridicule all doctors who've told their thyroid patients "Your labs are normal." Yes, I have an ax to grind with mainstream medicine and feel my post is fair game.
Mainstream medicine brought it on themselves by the way they've conducted themselves. It's much like the airlines have done the same with seats that force your knees up to your chin and allow the bald head in the seat in front of you to be in your face. They think it is OK but it is NOT OK. The many posts about the experiences of patients with doctors, and being stranger than fiction, proves my point.
In addition, I felt I was representative of many people who've gone through what I did over 9 years and just needed a place to vent and release their years of frustration through a little bit of humor. Can you believe that a doctor with 20+ years of education and training on how to heal people, and who literally holds the patient's life in their hands, would rely solely on a lab report? Then, they send the patient on their way by saying "there's nothing else to do — it must be in your head." They call themselves professionals? For shame. They deserve to be ridiculed.
I'm shocked by the frightening, life-altering treatment recommendations from doctors who've stopped trying to heal when they say, "Your labs are normal." If you haven't read my latest summary, here's a few. Incompetent doctors have recommended hysterectomies, ECT , surgeries and one patient was told she should check into an in-patient psych facility. The frighteningly outrageous part of this is that these doctors, who lull us into complacency because of their titles and stature in society are in a place in our lives where they can HARM US!!! And they have harmed many. I certainly feel harmed.
And the Band Plays on……………………..
What I always knew, but would never consciously admit until I started the post, was that the "only in America" pop culture bafoonery we read about in the newspaper also existed in the medical profession. The most intelligent people can also be the most dumb. A doctor tells a patient that "your bones are probably dissolving" or that Natural Desiccated Thyroid was "made by a meat company that went out of business 10 – 15 years ago" or that "since a cause of the depression can't be found , you might as well get a hysterectomy." Crazier than fiction.
So, the profession that is supposed to heal us is keeping us sick. Rather than letting one of the most basic laws of humanity (which is to help others) to passionately drive them to use their training and common sense to solve our problems, they would rather dismiss any other proposed treatment strategies that might work and let us stay miserable until someone in an ivory tower tells them to do otherwise.
You'd think I'd be done after the statement above, but it gets worse.
Not only is mainstream medicine keeping us sick, but many doctors are insulting us as they do so. For example, the complexities of thyroid problems and its related conditions cause many patients to gain weight. What do many doctors do? They blame the victim. "It's your fault you are fat " is what they mean when they tell you to go to Weight Watchers or to start eating spinach (It's true, a doc actually said that to a patient). They are thinking that the patient is not educated in how to eat right or just doesn't have the motivation. I'm one who has heard a variation of this before. Outrageous. The one person you would expect some empathy and compassion from does more harm and their attitude keeps us sick.
Some of you have decided to do something constructive with the problem, and through different initiatives, are demanding of the institutions that oversee thyroid treatment better care. I applaud you for that. Me, I'm the one who will keep insisting on firing doctors until we get well, get their attention, or both.
Fire a bad doctor for me. Add it to my post on the main STTM Facebook page!
*******************************
*To read Janie's 20-year agony thanks to uninformed doctors, read the detailed Introduction in the revised STTM book.
* See a collection of what many misguided doctors have said to patients over the years.
P.S. And thank you to the growing body of doctors who are LISTENING to ten years of patient experience as outlined on the STTM website and with more detail in the STTM book, all which underscores that
Important notes: All the information on this website is copyrighted. STTM is an information-only site based on what many patients worldwide have reported in their treatment and wisdom over the years. This is not to be taken as personal medical advice, nor to replace a relationship with your doctor. By reading this information-only website, you take full responsibility for what you choose to do with this website's information or outcomes. See the Disclaimer and Terms of Use.