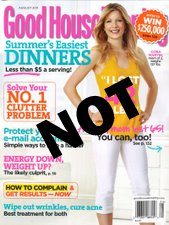 As informed thyroid patients, we've all been talking about it in patient groups, blog posts, and amongst each other. About.com's Mary Shomon did a good write up in her blog post, and you can see one of several different Facebook group conversations here as well as the article and our comments after it, here.
And if you haven't caught up with it all yet, here is a summary of the extremely sad misinformation and implications contained in an article of the latest issue in the Good Housekeeping magazine:
that the first step to diagnosing your potential hypothyroid problem is the use of the thyroid-stimulating hormone (TSH) lab test (a test which informed patients worldwide exclaim has left them either undiagnosed for years or undertreated! https://stopthethyroidmadness.com/tsh-why-its-useless)
that your TSH may only point to hypothyroidism if it comes back at 10 or higher (Hogwash!! say informed thyroid patients, who have been hypothyroid with a TSH in the two's! See above.)
that the only other tests you may need are the T4 and antibodies (which informed patients have found is only PART of what you need, which needs to include the very important free T3! //www.stopthethyroidmadness.com/recommended-labwork)
that it's worthy to quote a Dr. Daniels who states "There's no compelling evidence that medication helps patients whose TSH is in the 5.0 to 10.0 range," (exactly the kind of doctor which nearly all informed thyroid patients state has kept them repeatly sick for years! //www.stopthethyroidmadness.com/give-me-a-break )
that if you have "other problems", such as infertility or depression, your doctor might suggest medication (when, oh when, are doctors going to GET IT that depression and infertility are key symptoms of ongoing hypothyroidism!! https://stopthethyroidmadness.com/long-and-pathetic )
that T4 meds like Synthroid are T4 hormone are the go-to medication (and are the very medications which have kept patients sick, disabled, or with problematic hypothyroid symptoms for over 50 years! https://stopthethyroidmadness.com/t4-only-meds-dont-work )
that the "potency can vary" for desiccated thyroid…as if that's a good reason to be concerned about its use (potency is set in a predictable range and is made according to the strict guidance of the United States Pharmacopeia , say the makers of desiccated thyroid, and desiccated thyroid has been changing lives ten fold for decades! https://stopthethyroidmadness.com/natural-thyroid-101)
And last but not least…that you need to be on-guard about online patient information (yet wise and repeated "patient experience" has changed not only patient lives, but the way open-minded doctors are practicing in their own offices!! https://stopthethyroidmadness.com/things-we-have-learned
All the above, appearing in what we all thought would be considered a long-standing good magazine, only underscores the irresponsibility and ignorance of the media about REAL LIFE!! Who wants to subscribe to any magazine, or listen in seriousness to any news program, talk show, or internet website that allows this kind of DARK AGES BALONEY on its pages?? I don't.
P.S. One particularly personal tragedy is the author of this article, Susan Carlton. She is clearly hypothyroid, yet completely duped by the pharmaceutically-brainwashed medical field which clings blindly to a poor medication and inadequate labwork. She is ALL OF US LOOKING AT OURSELVES all those years when we believed in the doctors we went to and emptied our pocketbooks to try and find out why we had depression, infertility, rising cholesterol and blood pressure, linger aches and pains, poor stamina and fatigue, weight gain, hair loss, anxiety…and so many more symptoms of undiagnosed or undertreated hypothyroidism.
And sadly, how many of us also thought that actions similar to "drinking more java (for energy)", or "honing crossword skills (for focus)" or attending a "spinning class" (for our weight gain) was going to help us! They didn't help at all. They just sent us closer to adrenal dysfunction and disability.
***********************************
If you could speak to the author, Susan Carlton, in kindness and wisdom, what would you say to help her get past the brainwashing she is a victim to, as you were??
If you could speak to Good Housekeeping and all media like Oprah, CNN, MSNBC, ABC, FOX, what would you say about the repeated misinformation?
Important notes: All the information on this website is copyrighted. STTM is an information-only site based on what many patients worldwide have reported in their treatment and wisdom over the years. This is not to be taken as personal medical advice, nor to replace a relationship with your doctor. By reading this information-only website, you take full responsibility for what you choose to do with this website's information or outcomes. See the Disclaimer and Terms of Use.