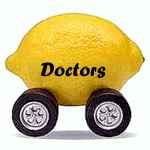 Answer: Most are duds.
On Monday, I had an enjoyable experience with an exception to the lemon cliche: I was a guest on Dr. Steven F. Hotze's radio program Health and Wellness Solutions, broadcast live from Houston, Texas. You can listen to a recording of our conversation here on the lower right under the heading Dr. Hotze Radio in orange.
The commercials were like flies, zeroing in often and irritatingly. But we managed to briefly mention both Stop the Thyroid Madness as well as the Hotze Health & Wellness Center.
And two things struck me about our friendly chat: first, Hotze mentioned that he started prescribing natural desiccated thyroid in the 1990's, far ahead of most doctors even today! If only we knew. And second, he made a quick mention of how disappointing most doctors are for patients, referring to the STTM page called Give Me A Break. If you haven't seen it, or it's been awhile, you will find it both hilarious and completely sad.
And it all made me ponder how in 2010, eight years after I personally found the life changing desiccated thyroid, there are still so many family practitioners and Endocrinologists keeping thyroid patients sick all over the world, even if they mean well, even if they are good people, even if they do other diagnoses and treatments correctly.
So on one hand, it's reality that progress is slow. But on the other hand, the thyroid treatment wall of ignorance is slowly tumbling down about better thyroid treatment thanks to patients who read about it and carry that information into their doctors offices.
So perhaps over time, the lemons who practice bad thyroid treatment will become less and less prominent in the name of enlightenment, wisdom and LISTENING to patients.
P.S. And by way, if you are lucky enough to have found one of those docs who prescribe desiccated thyroid, remember that NO doctor is all-knowing. YOU live in your own body, and can have your OWN wisdom and knowledge. So expect the relationship be a partnership. And if you can't get that partnership, find a better doctor.
Want to read more about natural desiccated thyroid? Go here. To read my own story, go here.
Important notes: All the information on this website is copyrighted. STTM is an information-only site based on what many patients worldwide have reported in their treatment and wisdom over the years. This is not to be taken as personal medical advice, nor to replace a relationship with your doctor. By reading this information-only website, you take full responsibility for what you choose to do with this website's information or outcomes. See the Disclaimer and Terms of Use.