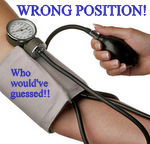 Last week, I had found my blood pressure quite high for me! Upper 140's and some 150's for my Systolic, and upper 90's and lower 100's for my Diastolic. Stage One hypertension! I was pretty sure my 4 grains may suddenly be a tad too high since entering meno. My temps and heartrate implied that, too.
I got off Armour for two days to use up some excess, got back on one, then on 2 grains multi-dosed. My plan is to make my way back up to 3 1/2 grains by a week or slightly more…and see.
In the meantime, I have been using some blood pressure lowering supplements (high dose potassium, grape seed extract, Braggs Apple Cider Vinegar in juice, more CoQ10 than normal, plus my regular supplements). I was more faithful to my treadmill walking (thanks to an April that still thinks it's winter), and meditating. The latter two definitely helped lower both the Systolic and Diastolic, even if not low enough for my ideal.
For the last five days, my BP readings have still been too high. All those days, I had been seated on our couch. I put a pillow in my lap, laying my arm on that pillow, which meant my arm was slightly downward. Sometimes my wrist would hang off the pillow.
Today, I decided I wanted to test something I have read. Namely, it's actually quite important how you place your arm. The recommended way is placing your arm perpendicular to your body and at the height of your heart or a tad higher, all while comfortable resting on something. Elbow can be flexed, but your arm must still be perpendicular to your body and about heart height or slightly higher.
Below are four of my most recent afternoon BP readings with pulse: two with the Left arm, then two with the Right arm.
L: 139/106 98 (arm hanging down and resting on seated leg)
L: 122/88 89 (arm up, perpendicular to my body, supported by pillows)
R: 141/87 92 (arm hanging down and resting on pillow)
R: 123/85 89 (arm up, perpendicular to my body, supported by pillows)
What you should note is that the first L reading, and the first R reading, were with the arm relaxed on a pillow but lower than my heart. The second of each is with the arm on two pillows, putting it perpendicular to my heart, with elbow flexed, and all of arm completely supported.
I was shocked! Putting my arms in what research is saying is the CORRECT position gave me much better readings. I am VERY pleased with the 122 and 123. Much better. And though the 88 and 83 Diastolics are not to my liking yet, and tell me I need more work, the difference between the arm positions was stunning….as is the difference in what I've been getting for five days.
More info: it was brought to my attention that taking a second BP reading is usually always lower anyway. Ah, I thought, that's correct! So to test this information based on research, I went back last night before bedtime. First took my BP with my arm in the upper correct position. Then the second time, took it with my arm down.
138/89 (up perpendicular to body; level with heart) pulse 80
146/100 (arm down) pulse 82
The second did NOT go down. It went UP! Interesting.
*Want to be informed of the STTM blog postings?? Curious what's on my mind? Just use the Notifications to the left at the bottom of the links.
**Are you in the US and want to help make sure we don't end up like the UK, having our Armour taken away?? In the post below, I have given you SEVEN STEPS that I hope you will follow through on! YOU can make a difference.

Important notes: All the information on this website is copyrighted. STTM is an information-only site based on what many patients worldwide have reported in their treatment and wisdom over the years. This is not to be taken as personal medical advice, nor to replace a relationship with your doctor. By reading this information-only website, you take full responsibility for what you choose to do with this website's information or outcomes. See the Disclaimer and Terms of Use.