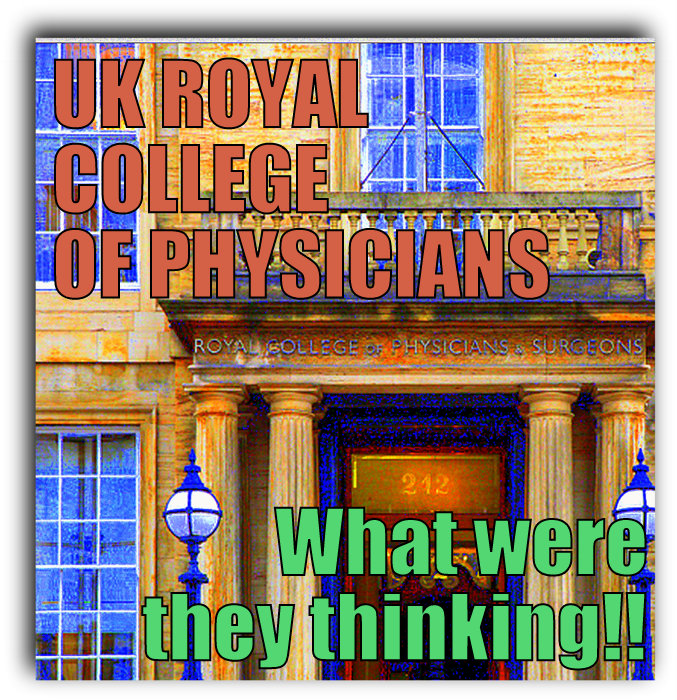 (This post was updated to the present! Enjoy!)
2009 was a nauseating year for informed UK thyroid patients. UK's Royal College of Physicians came out with a press release about the new guidelines on the diagnosis and management of primary hypothyroidism. And it hit the web with a resounding, stiff-necked **THUD**.
The press release was titled:
Thyroxine is the only treatment for primary hypothyroidism
Yup, as if nothing else could possibly exist, even though other hypothyroid treatments do exist, and one has been around for over 110 years changing lives called Natural Desiccated Thyroid. But no, it's only the blinkered, horse-blinders pronouncement that "Thyroxine is the only….".
And to underscore the title, the first line of the press release pronounced:
New guidelines on the diagnosis and management of primary hypothyroidism state that thyroxine is the only treatment that should be given for this condition, which is caused by underactivity of the thyroid gland.
And it continues in all its blabbering, tunnel-vision glory:
The guidelines also state that the only validated method of testing thyroid function is on blood, which must include serum TSH (thyroid stimulating hormone) and a measure of free thyroxine (T4).
For those who may not have caught up with the wisdom on thyroid patients and a growing body of entirely wise practitioners, the TSH lab test has proven to be the absolutely worst way to diagnose hypothyroidism, besides its use to find the right amount of medication. Far more important is the very test the UK College completely omitted: the free T3. T3 is the active thyroid hormone!
The came the final coup de grâce in the press release:
Patients, doctors and other health professionals are worried that people are being wrongly diagnosed and treated, due to the amount of unvalidated diagnostic tests and 'natural' treatments which are being offered by a variety of private individuals and companies. Wrong diagnoses and treatments can be dangerous, either because the wrong treatment can cause serious side effects, or the true cause of symptoms can be left undiagnosed and untreated.
Sadly, the danger is in using only one of five thyroid hormones, and forcing patients to live for conversion alone, resulting in a continuation of hypothyroidism in each patient's degree and kind, sooner or later.
A concluding paragraph by Janie
In the 1600's, Galileo was the first most prolific voice to proclaim that the earth revolved around the sun (Natural Desiccated thyroid), in contrast to the firmly held position that the sun revolved around the earth (Thyroxine). He was denounced as being dangerous and heretical. Looks as if the UK Royal College of Physicians has a 17th Century mindset….
****************
** I wrote about it in the news media here: http://www.opednews.com/articles/The-Royal-College-of-Physi-by-Janie-Bowthorpe-090210-698.html
Are you from the UK? Tell us what you think.

Important notes: All the information on this website is copyrighted. STTM is an information-only site based on what many patients worldwide have reported in their treatment and wisdom over the years. This is not to be taken as personal medical advice, nor to replace a relationship with your doctor. By reading this information-only website, you take full responsibility for what you choose to do with this website's information or outcomes. See the Disclaimer and Terms of Use.